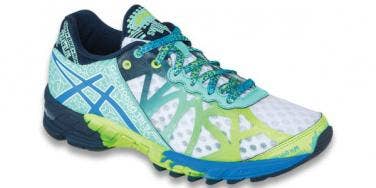 Throw out the velour track suits, ladies! Here's a whole new look to help you stay modern and comfy!
When we enter parenthood, sleep definitely goes out the window, and sometimes (unfortunately) so does our focus on fashion. Sleep deprivation makes you care a heck of a lot less about what you're wearing, and how you're wearing it. A successful day in the life of a new mommy rests upon whether or not teeth have been brushed and enough water has been guzzled. Pajamas usually become a staple in the new wardrobe and a scrunchy becomes a necessity instead of the enemy. To help other new moms combat lackluster style habits, we've come up with some easy fashion fixes. (Sorry, we still haven't figured out how to get more sleep). Included on the list are simple items with a punch of color, multiple uses, and (the best part) you can buy them all with a click of a mouse! You're welcome!
Twist Scarves
Ban.Do Twist Scarves
Top knot, ponytail, and chop-it-off are all the classic 'dos for a new mom. Showers become less frequent (sigh) and so we have to do something to combat our crazy mops! To add a little glitz and glamour to the frump on top of our heads, accessorize with some fun head scarves. These scarves are great because they pull back the whisps of hair that keep falling in your face and they look dang cute even with your hair down.
Bralette
Joe Boxer Bralette
Let's get real, as a new mom there are necessities that must be met and that starts with a good bra. Bralettes are a mix of a cami and a bra (genius!). They offer total support, but comfortable enough to sleep in. Can we buy a bajillion?
Stack 'em Up!
Stacking Rings
The thrill of having that gorgeous ring on your finger leaves the building (momentarily) when a new bundle of heaven is put in your lap. No one wants diaper cream covered diamond rings, or to accidentally scratch baby's oh-so-soft skin. To help with the absence of that cherished ring, try stacking a few classic rings on your finger. Stacking rings is a simple way to stay on top of the trend, with less to worry about.
The T-Shirt
Hello Merch T-Shirt
There is nothing more comfortable, new mommy or not, than a t-shirt. Days turn into nights, and weeks become months in the first year of your little one's life. A good t-shirt is never a bad thing to have on hand, especially a chic (yes, chic!) one. Try and stick with a cotton blend, the more you wear it the more you will want to wear it. Style doesn't have to go out the window with t-shirts, this Hello! Merch shirt tells the truth and we applaud them for that.
Everyday Leggings
Leggings
Under Armour Printed Zipped Leggings
Huge praise goes to the man (or woman) who created the best thing on this very Earth, leggings! Without this great invention, the mom jean and snazzy velour track suit would still be around. Leggings keep everything where it needs to be (heh..) and are still comfortable. The key to a great legging is a versatile one, make sure they aren't going show it all when you bend over, get a basic color that goes with everything, and most of all get the zippers!
New Kicks
GEL-Noosa Tri 9 Trainers
Let's be real, new tennis shoes are key for a comfortable existence. Whether you're just getting out and walking baby, or heading to the grocery store, rocking new kicks will make your jaunt so much better. New tennis shoes these days come in the most awesome colors, so they look so much cooler. Go for it, grab your favorite color and wear 'em with pride!
Previous
Next
BEGIN