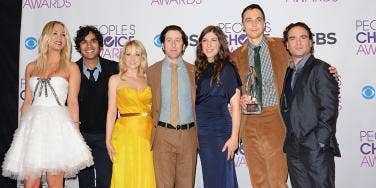 'The Big Bang Theory' cast is raking in the cash!
Bazinga! We tune into CBS every week because we love watching four scientists geek out. Even though we sometimes have no idea what Sheldon is saying, it's still beyond entertaining just to watch him speak. At this point we know that we have at least three seasons left before the show potentially ends (wahhh!) and we're soaking up every ounce of Big Bang Theory that we can. Leonard, Sheldon and Penny have pretty much become family to us.
In case you live under a giant rock and haven't seen all the articles about the show this week, three of The Big Bang Theory cast members landed some major promotions! Johnny Galecki, Kaley Cuoco and Jim Parsons are officially the three highest paid actors on television right now, bringing in $1 million each an episode. This is what the Friends cast members were making toward the end of the show (although if you adjust for inflation the Friends cast was still making more). Filming on season 8 begins this week and we are impatiently awaiting the Sept. 22 premiere.
To hold us over until the show starts, we have put together 22 awesome facts that you may not have known about the quirky comedy.
1. Jim Parsons has never actually seen Star Trek.
Even though Sheldon is obsessed with Star Trek and his arch nemesis Wil Wheaton, Parsons has never actually watched it.
2. Kaley and Johnny dated!
Kaley Cuoco and Johnny Galecki dated for two years while working on the show! They kept it a secret, even from coworkers! "It was a wonderful relationship but we never spoke a word about it and never went anywhere together. We were so protective of ourselves and the show and didn't want anything to ruin that. But that also made it sad, too," Cuoco admitted to CBS Watch Magazine.
3. Chuck Lorre created other great shows.
The Big Bang Theory isn't creator Chuck Lorre's only show. He is also responsible for creating Two and a Half Men and Dharma & Greg. He has also written for the hit show Mike & Molly.
4. 'Bazinga' originated from a grapefruit joke.
Writer Stephen Engel, used the term "Bazinga" when he would play practical jokes on people, specifically a joke involving a taped up grapefruit in the writers' office. It basically just means meant "I got you." They decided to add it into the show as they were writing.
5. Mayim Bialik has her PhD!
She's the only one in the cast that actually has an education in neuroscience.
6. Sheldon Leonard is a famous TV Producer.
The two main characters are named for a late producer who is famous for being an executive producer of The Dick Van Dyke Show and The Andy Griffith Show.
7. Penny was originally named Katie.
The character of Penny was developed after the show was created. In the unaired pilot, Katie was the original neighbors name and she was played by Amanda Walsh. Walsh has been a side character in movies like Disturbia, Ghosts of Girlfriends Past and Beauty & The Briefcase.
8. The characters learned how to play the instruments.
Mayim Bialik actually learned how to play the harp for Amy, Jim Parsons learned to theremin for Sheldon (even though he admitted to not being great at it) and Johnny Galecki plays the piano.
9. There is only one set of stairs.
Every time they walk up the stairs in their apartment, they use the same set, but they redress every "floor" of the building.
10. The Big Bang Theory is also a Rosanne reunion.
Johnny Galecki used to be one of the main cast members on Rosanne in the 90s, but he's not the only Rosanne cast member to appear on BBT. Sara Gilbert, who played Leonard's ex-girlfriend Leslie, was also his girlfriend, Darlene Connor on Roseanne. Sheldon's mom, Laurie Metcalf, played Jackie Harris.
11. Exec Producer, Bill Prady, has the Raj-women problem.
The idea behind Raj only being able to talk to women when he's drunk is actually based of the executive producer. Hopefully he still doesn't have that problem, otherwise we assume he's drunk … a lot!
12. Every episode is named after a scientific theory or episode.
Except for the pilot, which is titled "pilot."
13. "Soft Kitty" is real!
The "Soft Kitty" song Penny sings to Sheldon to soothe him is a real song from Australia. Bill Prady learned the song from his daughter's preschool teacher.
14. We still don't know Penny's last name.
And Cuoco hasn't given us any hints.
15. Johnny Galecki's glasses are fake.
Sometimes they don't even have glass in them, it's just the frames!
16. There is a bee named in honor of the show.
The species Euglossa bazinga was named in 2013.
17. BBT set a record with back-to-back renewals.
The show is the only modern scripted show to ever receive two back-to-back three-season renewals.
18. Mayim Bialik was referenced in a Blossom joke.
Before Mayim ever joined the cast, they made a reference to her and the show Blossom when Raj suggests asking actress, Mayim Bialik to join their bowling team.
19. Bernadette's voice isn't real.
Actress Melissa Rauch has said before that she based Bernadette's voice on her mother!
20. The show wasn't originally called The Big Bang Theory.
The interim title before they landed on the name was "Lenny, Penny and Kenny." Yikes.
21. Jim Parsons was cast on the spot.
When Chuck Lorre called Jim back in for a second interview he was already pretty positive he wanted to cast him. When Jim nailed the interview, he was offered the job on the spot during the audition.
22. Howard Wolowitz is named after a real person.
Co-creator Bill Prady named Howard after one of his old coworkers at a computer company.
Previous
Next
BEGIN