Photo: WeHeartIt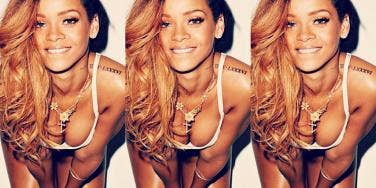 It's National Underwear Day, and it's time to celebrate!
To celebrate National Underwear Day (yes, that's a thing!), it's time to oogle some of the hottest bodies and sexiest lingerie pics in the biz. What a glorious day this is!
1. Chrissy Teigen
She's a "Sports Illustrated" cover girl, John Legend's wife, and a Taco Bell fan for life. Chrissy has a hot bod that seems to thrive on fast food, lucky girl!
2. David Beckham
There are no words needed for this hot body. He seems to get better and better with age. God Bless him!
3. Gisele Bundchen
Sigh, underwear never looked better. Mom of two, Gisele, kills the game with her hot body.
4. Mark Wahlberg
Before he was Mark Wahlberg, we knew him as Marky Mark, and boy are we thankful for those days. This throwback to a hotter time is courtesy of those iconic 'Calvins'.
5. Megan Fox
Sexy, funny, and married to DAVID FROM 90210!? It's hard not to be jealous on so many levels. This gal truly has it all!
6. Rihanna
She is beautiful with or without clothes, and (gulp) inspires us to hit the treadmill.
7. Zac Efron
Zac is hot in anything he wears, especially those Calvin's !
Previous
Next
BEGIN