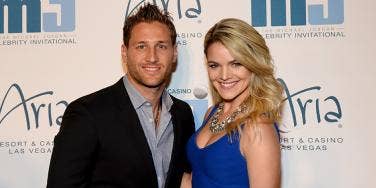 Sorry, not everyone can be as perfect as Trista and Ryan Sutter!
Between Bachelor in Paradise and the crazy Nick Viall confessions during The Bachelorette after show, we seriously cannot get enough of The Bachelor in our lives. Will Andi and Josh make it to the wedding? How about Marcus and Lacy? Damn you Chris Harrison for making us tune in to so many shows, we can't even keep track of all the drama.
One thing we do know for sure though is that Juan Pablo and Nikki are still together according to People Magazine. We thought it would be over by now and it's probably because of their appearances on shows like Couples Therapy. Maybe they are just glorified famewhores and that's the only show that would take them? Or maybe they are actually in love? Whatever the case, JP and Nikki are still together, but these 13 couples are so totally dunzo — and it happened very quickly after their seasons aired.
1. Jason Mesnick and Melissa Rycroft
Jason Mesnick proposed to Melissa on the finale of The Bachelor, but on After The Final Rose, he broke up with her and then asked runner-up Molly for a second chance, and she accepted. The two are married and have one child together.
2. Travis Stork and Sarah Stone
Ah, the Paris season, also maybe the shortest relationship next to Jason and Melissa. Travis Stork and Sarah Stone announced a week after the finale that they were over.
3. Brad Womack and Emily Maynard
Brad Womack and Emily Maynard actually broke up while the season was airing, but ended up getting back together. After the reunion, they still only lasted a few months. Emily went on to be The Bachelorette!
4. Emily Maynard and Jef Holm
Emily Maynard had even less luck her second time around. When the final episode of The Bachelorette aired, she and Jef Holm only lasted for three months after. Emily is now married to a guy she met in church!
5. Jesse Palmer and Jessica Bowlin
NFL quarterback Jesse Palmer gave Jessica Bowlin the final rose back in 2004, but didn't propose. The couple broke up a few weeks after. Palmer is now a college football analyst and still hasn't gotten married. Maybe it's time to bring him back!
6. Bob Guiney and Estella Gardinier
Instead of proposing, Bob Guiney gave Estella Gardiner a promise ring (because there's a major difference, obviously). That lasted about a month before the couple split up. Bob has been married and divorced since then.
7. Aaron Buerge and Helene Eksterowicz
Just five weeks after the finale, Aaron Buerge and Helene Eksterowicz confirmed their split. Helene has since married a technology consultant for IBM and Aaron went on to marry as well. In 2011, Aaron's financial troubles hit a snag and he ended up filing for bankruptcy.
8. Andrew Firestone and Jen Schefft
Andrew Firestone proposed to Jen Schefft during the third season of The Bachelor, but the romance only lasted six months before they split in December 2003. Jen went on to be The Bachelorette but declined both men at the end of her season. Both Andrew and Jen married and had kids, so it worked out for both of them.
9. Lorenzo Borghese and Jennifer Wilson
Girls not getting proposed to at the end of the show seem to be a trend in the breakups. Lorzeno Borghese did not propose to Jennifer Wilson, and the couple split two months after the finale aired. If you can recall, Borghese was all about saving the animals. He hasn't stopped saving animals either. In 2014, he won the Animal Advocacy Award. He's still unmarried, ladies!
10. Matt Grant and Shayne Lamas
We never thought Shayne Lamas would end up with British Bachelor Matt Grant. They lasted two months after the finale before calling it quits. Shayne is now married to thedirty.com creator and frosted-tip fan Nik Richie, and they have one child together.
11. Jake Pavelka and Vienna Girardi
Everyone knows how this mess went down, because neither of them would stop trash talking each other. After the announcement of Jake Pavelka and Vienna Girardi's engagement, they lasted three months before it ended for good. No one really cares what they're doing now.
12. Andrew Baldwin and Tessa Horst
Lasting longer than some of the others, Andrew Baldwin and Tessa Horst's relationship made it three months before they called off the engagement. The couple dated regularly for one month after the announcement before they broke up for good. Andrew Baldwin, the most eligible Naval Officer in America, still hasn't married.
13. DeAnna Pappas and Jesse Csincsak
After the final episode aired in July 2008, DeAnna Pappas and Jesse Csincsak set a wedding date for May 2009. Unfortunately, they only lasted till November before splitting. DeAnna is currently married to Stephen Stagliano, whose brother Michael appeared on the fifth season of The Bachelorette.
Previous
Next
BEGIN