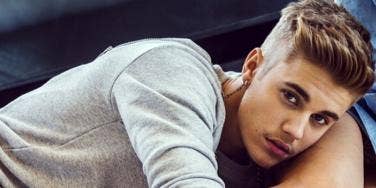 Who needs commitment when you can have a flirtationship? That's just what Justin Bieber is doing.
Justin Bieber is 20. He's not old enough to drink legally in the U.S. Nor can he rent a car. By our estimation, he has had one serious relationship in his life and that is/was with his constant on-off girlfriend Selena Gomez.
Those two are sucked into each other's vortex and they cannot stay away from one another or pry themselves apart, despite the fact that they are no longer Facebook official (nor Instagram official nor Twitter official nor TMZ official nor even in-the-eyes-of-God official).
Despite the fact that Jelena lingers, the Biebs has had plenty of flirtationships with gorgeous women. He has posed with hot models and then shared the pics on his Instagram feed. He has been rumored to be messing around with one supermodel — that'd be Miranda Kerr, which reportedly lead to the Orlando Bloom altercation heard round the world.
He has also posed with Kardashians, both nuclear and satellite.
All of this pretty lady activity probably drives Gomez, as well as his beloved Beliebers, nuts.
Here's a round up of some of Justin Bieber's most, um, interesting flirtationships and dating history.
Miranda Kerr
1. The supermodel and former wife of Orlando Bloom is allegedly the bone of contention between Justin Bieber and Bloom, who b---h slapped each other in the summer of 2014. The Biebs reportedly got too close to the model at a Victoria's Secret fashion show while she was still with Bloom and an epic non-bro battle was born. Legolas vs. the teen punk hobbit!
Barbara Palvin
2. Babs, oh, Babs! Babs x The Biebs! A few years ago, Barbara Palvin was outed as a Belieber, which means there is no accounting for musical taste even when you are hawt as the sun, and everyone thought Justin Bieber was straying from Gomez with the European model.
Justin Bieber and Selena Gomez
3. Justin Bieber and Selena Gomez aka Jelena look like a happy family in this beach shot with his younger siblings. They are forever linked and not just because they are almost holding hands. It's also because they just can't quit each other.
Justin Bieber and Yovanna Ventura
4. Justin Bieber has befriended model Yovanna Ventura, a Gomez lookalike. It felt like a ploy to make Gomez jealous, since Ventura is pretty stunning and The Biebs lost his shirt over her.
Justin Bieber and Shanina Shaik
5. That's The Biebs and Aussie model Shanina Shaik. Check out her eyes -- they are captivating. But alas, 'tis just a flirtationship. In the IG caption, The Biebs even wrote: "Don't even start with dating rumors." Okay, fine. This is just a flirtationship.
Justin Bieber and Kendall Jenner
6. This pink-hued pic of Kendall Jenner trying to lay a kiss on Justin Bieber should send off five alarms for Miss Selena Gomez. Considering the fact that Gomez hung out with Jenner and her sister Kylie and then deleted them from Instagram in the "Great Gomez IG Purge of '14" last spring makes this super juicy. It feels like a diss. It also doesn't feel like any sort of seriousness is going on here. Gomez can retaliate by hooking up with One Direction's Harry Styles, who had a showmance with Kendall Jenner (and Gomez's other onetime BFF, Taylor Swift). So. Many. Buzzwords.
Justin Bieber and Kris Jenner
7. The Biebs and The Coug! Justin Bieber hung out with the Kardashian matriarch Kris Jenner and got really, really close. This is just a moment of Instagram silliness: that is, an IG pic that looks much flirty than it is, son.
Justin Bieber and Amber Rose
8. Amber Rose is married to rapper Wiz Khalifa, who is her baby daddy. The Biebs may be wearing sunglasses in this photo, but he is looking down. At her cleavage. A little creepy, but mostly fun, fleeting and harmless.
Previous
Next
BEGIN