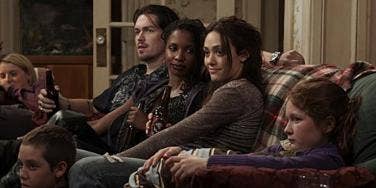 How much do you know about the Gallaghers and TV's "Shameless?"
The Gallaghers of Showtime's hit dramedy Shameless, featuring a cast (and a family) led by William H. Macy and Emmy Rossum, are more like your next door neighbors than you'd like to think. Or perhaps you and your family are much more like the Gallaghers than you'd like to think or than you'd like your neighbors to think. We know, it's pretty heavy stuff. That's probably why the show has resonated so much with the American public. On some level, it's like holding up a mirror.
The Gallaghers have wormed their way into our blackened, charred hearts and have become a beloved dysfunctional family, much like the network TV Conner clan in the long-cancelled Roseanne or the Fisher fam in HBO's much-missed Six Feet Under.
These are 10 things you may only know about Shameless if you are a diehard fan. However, if you are planning to do a Netflix or DVR binge-watching sesh to get into the show, why not grab a few fun facts here before you begin?
Shameless
1. The series premiered on January 9, 2011.
Shameless
9. Steve and Fiona had sex in a pool in Season 1. That is reportedly the same pool that was used in Cruel Intentions.
Shameless
8. Shanola Hampton, who plays Veronica, is the daughter of a pastor in South Carolina. According to Hollywood Life, she grew up singing gospel music in church.
Shameless
7. Producer John Wells had two locations in which he did not want to the show to take place: the south or in a trailer park, since that would be way too cliche. Instead, he wanted something that felt a bit more close to home. He said that he wanted the Gallaghers to feel like your neighbors.
Shameless
6. The original's creator has said the Gallagher family is not blue collar, instead calling them "no collar."
Shameless
5. Allison Janney played the role of Sheila in the pilot. She was replaced by Joan Cusack. Janney bailed due to commitment to ABC's Mr. Sunshine and the fact that the role of Sheila ended up being more prominent than previously planned.
Shameless
4. The show is a remake of a British series of the same name.
Shameless
3. Canaryville, which is where the Family Gallagher resides, is located on the South Side of Chicago.
Shameless
2. Emmy Rosum, the stunner who plays Fiona, the character that ends up being responsible for everyone, has said that she loves she can ditch the glam element by playing Fiona. She also has said that the role brought out her "ballsier side."
Shameless
10. Justin Chatwin, who plays Steve, reportedly had a role in the Smallville pilot.
Previous
Next
BEGIN