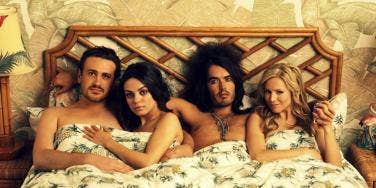 From the slap stick to the jaw dropping, we have it all.
Ah, let us count the many ways we adore the romp-gone-wrong in the cinema. Most comedies fall short of perfection due to lack of creatively cringe-worthy lovin' (say that 5 times fast). The little nuggets of clinching awkwardness from an intimate moment gone haywire are what bring people together. Encouraging the giggles while watching clunky, clumsy lovemaking is what makes movies worth watching. Amright?
Parsnips, deli meat slaps, and reenactments from Dirty Dancing are just the beginning of these silly and awkward sex scenes! Taking away all the glitz and glamour of the dream-like, fantasy sex is what makes these movies sparkle. How many times do we need to be hit over the head with rocking bodies and perfectly synched movements? Taking the time to reminisce some of the most squirm-worthy (in the most hysterical way possible) sex mishaps from the land of Hollywood is sure to make anyone's day better. After all is said and done, we've come home from a long day, aren't we all just looking for a good laugh? And for that we salute you, hilarious sex scenes!
This is 40
1. This is 40

Judd Apatow knows how to start a movie right. The shower sex scene is by far one of the funniest, and most real, sex scenes in film. Lesson learned from this movie: Never admit to the blue pill, fellas!
Ted
2. Ted
Ted is a fluffy adorable stuffed animal, who enjoys the company of women. The scene from the supermarket is equal parts sick and hilar! The details of the whole event will shock and amaze you every single time.
Forgetting Sarah Marshall
3. Forgetting Sarah Marshall
So many funny sex scenes to choose from, this movie is jam-packed with comedic sex. From the tantric (Russel Brand), to the sad and pathetic (Jason Segal) ... all laughable bases are covered.
Easy A
4. Easy A
It's one of the lesser-known funny sex scene but certainly one worth watching. Picture high school virgins pretending to have grunt-worthy, bed-breaking sex. Its funny, and its entertaining. Trust us.
Crazy Stupid Love
5. Crazy Stupid Love
Two major contributors to this hysterical scene: the fact that Ryan Gosling isn't Photoshopped and the Dirty Dancing lift! It's so cute and silly you will kinda wish you were getting played by Ryan Gosling. (duh)
American Pie
6. American Pie
We can't think of the funniest sex scenes and not include this classic moment. It changed how the whole world looked at homemade apple pie. It's cringe-worthy and a bit hard to watch, but only in the 'is this really happening' way!
5 Year Engagement
7. 5 Year Engagement
I guess the secret to a good sex scene is Jason Segal. The man gets slapped in the face with deli meat. Need I say more?
Previous
Next
BEGIN