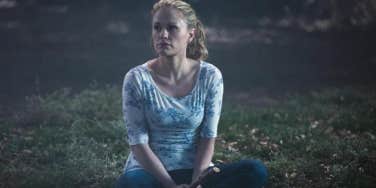 These stars swing both ways.
Nobody wants to hear Larry King talk about sex, but he keeps on doing it, because, well, sex sells and he needs the ratings. Things got uncomfortable when he sat down with True Blood star Anna Paquin and he brought up her bisexuality. Since she's currently married to a man (her True Blood vampire co-star Stephen Moyer), King referred to her as a "non-practicing bisexual," which, you know, makes no sense. Paquin patiently informed King that bisexuality isn't something that goes away, and tried to explain to him how it works, basically telling him he doesn't stop being attracted to women in general just because he's a straight married guy. Things got super uncomfortable, mostly because Larry King is the oldest man ever and he's talking about sex, something he probably hasn't had without the help of medications in a really long time. Since it seems like Larry King doesn't really have a clue about how bisexuality works, and we don't want to explain it to him (because who has that kind of time?), here are 17 celebrities that could break it down easily him, because they're bisexual and have functioning brains. The latter is more than can be said for Mr. King, but what do you expect? He's on a cable news network.
Evan Rachel Wood
Evan Rachel Wood is openly bisexual and says she's very chivalrous with other women — and that Miley Cyrus gives her gay vibes. Oh boy.
Billie Joe Armstrong
Billie Joe Armstrong told The Advocate that his bisexuality is a "beautiful thing" back in 1995.
Amber Heard
Amber Heard dated a female photographer for a while named Tasya Van Ree. Now she's engaged to Johnny Depp. Upgrade? Maybe.
Andy Dick
If Andy Dick could sit still for two seconds, he'd be able to explain that bisexuality is a real thing.
Tom Hardy
Openly bisexual Tom Hardy may well break anyone who spews nonsense about bisexuality in general.
Snooki
Snooki could make Larry King feel like a real grenade for his outdated views on bisexuality.
Pink
Pink is bisexual — before marrying husband Carey Hart, she dated a few dudes, including Tommy Lee, and had a fling with actress Kristianna Loken. If Pink weren't too busy being one of the most successful musicians in the world, she could beat some sense into Larry King.
Michelle Rodriguez
Larry King better learn 'FAST', or it's going to make openly bisexual Michelle Rodriguez, who's hooked up with Kristianna Loken, Cara Delevingne and Zac Efron, 'FURIOUS.'
Megan Fox
Megan Fox is bisexual, as long as the sexual doesn't include anyone named Larry King. (She's married to Brian Austin Green, but she also confessed to a huge crush on Olivia Wilde. Good taste in gals.)
Azealia Banks
Azealia Banks loves to have Twitter beefs with people, so I doubt she'd mind adding Larry King to the list.
Mary Lynn Rajskub
Mary Lynn Rajskub swings both ways, and like most people, has a crush on Megan Fox.
Lady Gaga
Lady Gaga is openly bisexual and has been dating Taylor Kinney for years. She's a champion for the LGBTQ community and was born that way.
Kesha
Kesha once had sex with a ghost, so it's unlikely that King would understand that. But the fact that she openly admits she's attracted to people for their spirit, not their gender, shouldn't be too baffling.
David Bowie
Rather than explain it to Larry King, David Bowie could write an amazing song about how bisexuality works.
Angelina Jolie
Angelina Jolie had a girlfriend, Jenny Shimizu, and openly admits to affairs with both men and women before getting together with Brad Pitt. Jolie could could teach Larry King to 'adopt' some smarter views about bisexuality.
Alan Cumming
This theatrical performer could sing and dance some understanding into Larry King's ignorant old heart.
Anna Paquin
Anna Paquin loves men, women, werewolves, vampires — and she's happily married to her onscreen vamp lover, Stephen Moyer.
Previous
Next
BEGIN