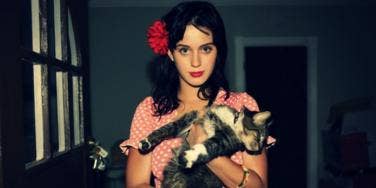 Why do stars need to date each other when they've already found the love of their lives?
There are plenty of theories about why relationships in Hollywood don't last, but we haven't considered this one yet: the stars just don't want them to!
Why, you ask? Well, from the looks of these photos, it seems plenty of hot A-listers have already found the love of their lives... in their pets. From Katy Perry's bunny to Ryan Gosling's dog, it seems some celebs may be willing to forgo true love in the name of "puppy love."
Photo: weheartit.com
Blake Lively & Her Dog, Penny
Blake Lively almost always has her toy maltipoo Penny to keep her company on the set of Gossip Girl. Even when she's off the clock and spending time with her hubby, Ryan Reynolds, you better believe Penny is not far behind. She's so small, she can go anywhere! "She's my constant companion," Lively told UK's Marie Claire in 2009. "I've had big dogs my whole life, but it's just nice to have another heartbeat to take care of."
Demi Lovato & Her Bunny, Ella
Besides her family dogs Bailey and Bella, former Disney star Demi Lovato also snuggles up with her black and white bunny named Ella. She tweeted this photo of the happy (and hoppy) pair in 2010 shortly after getting her new floppy-eared pal. Who needs exes like Joe Jonas or Wilmer Valderrama when she has such great company at home?
Katy Perry & Her Bunny, Abracadabra
So, no one really knows if Katy Perry and her ex, Russell Brand divvied up their three cats, Morrissey, Kitty Purry and Krusty, in their divorce proceedings, but one thing that Brand can never take away from the pop singer is Abracadabra! Perry introduced the world to her new friend on Twitter in June 2010 with the explanation: "Cute overload picture of the day introducing a bunny named Abracadabra." Back then, she was just engaged and getting ready to walk down the aisle. We hope this little guy has done some magic to ease her broken heart since then.
Leonardo DiCaprio & His Tortoise
We had to throw in this last celebrity-pet duo because it's too good to be true (even in this photo is 100 percent hilariously fake). Yes, Mr. Titanic himself owns a pet tortoise. After attending the North American Reptile Breeders Conference and Trade Show in 2010, DiCaprio requested "the biggest tortoise" one pet store in California had (it was 38 pounds!), and bought it for $400. Leo's Sulcata tortoise will most likely be passed down to his kids (if he ever has any), since its life expectancy is 80 years!
Nicole Richie & Her Cat, Gypsy Rose Lee
Nicole Richie is totally aware (and cool) with the fact that she gave her first cat, Gypsy Rose Lee and later, Gypsy's brother, Tabitha Jones Madden, both first and last names. She just loves them that much! "They are related!" Richie told Vanity Fair when the magazine pointed out the oddity in 2010. "My cats are members of my family. When I go, they're definitely going to get all the cat food that I have in my house." Her family also includes hubby Joel Madden, their daughter Harlow and son Sparrow, and two Pomeranians named Honeychild and Foxxy Cleopatra.
President Obama & His Dog, Bo
Who's the most famous dog in America? Well, you could argue the "first dog," Bo, currently holds that title. President Obama and his family still get their quality time at the White House with their black and white Portuguese Water dog, despite their busy schedules. "Bo is wonderful. He is the smartest dog on the planet," Bo's mom, Michelle Obama, told David Letterman recently. "He is my son. I have two girls and a boy... He's a very sweet dog. I'm not being biased. He is really a good dog."
Ryan Gosling & His Dog, George
Ryan Gosling and his dog George are such good buds, they both made an appearance on Late Night With Jimmy Fallon in July last year to help him promote his romantic comedy, Crazy Stupid Love. But now that Gosling is currently in Thailand filming his new movie, Only God Forgives, he's reportedly trusting his girlfriend of about 6 months, Eva Mendes, with dogsitting duties. "He was going to have his friends watch George, but changed his mind at the last minute," a source tells Us Weekly. "That's a huge deal to him. He wouldn't leave that dog with just anyone."
Ryan Reynolds & His Dog, Baxter
Make that two heartbeats! Blake Lively regularly babysits for her man Ryan Reynolds' beloved golden retriever mix, Baxter. When explaining how he met his best friend, Reynolds said: "I saw this big, dumb-looking retriever staring up at me. I whispered to him, 'Hey, let's get the hell out of here.' And he jumped up, like he spoke English fluently. He came with me, he jumped in the car, and we've been best buddies ever since."
Tori Spelling & Her Pig, Hank
Apparently Tori Spelling and Dean McDermott have no problem sharing their marital bed with a pig... that is, their pet pig, Hank. The family's micro-mini piglet is "a total 'lap pig' and insists on sleeping on the bed," Spelling told Us Weekly last year. "He's really pampered and funny!" Piggie Hank is just one of the mutiple pets this large Hollywood family owns — they also have a dog, chickens and two goats. Oh, and four kids!
Previous
Next
BEGIN