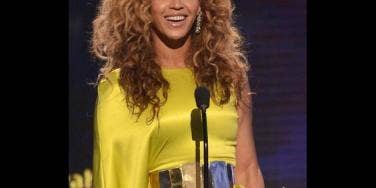 We reveal the 22 most irresistible men and women in Hollywood, according to you!
Everyone has a certain, shall we say, je ne sais quoi that makes them irresistible to others. In fact, it's so strong in some that they manage to turn both men and women on by their presence alone! Those individuals are pretty lucky... which is why most of them can be found in Hollywood.
However, some stars happen to be better at capturing our hearts with their dashing good looks, charm and sex appeal than others. As part of our Irresistible You initiative, we wanted to get to the bottom of who was the most swoon-worthy of all (wow, we kind of sound like the evil witch in Snow White). So, we surveyed 717 of our readers to find out.
Out of 22 choices—11 women and 11 men—you voted for the celebs that you find completely, utterly delectable in every aspect. Here are the results, and they may surprise you:
Adam Levine
Number 5 on our list strays from the leading men on the big-screen – he'd much rather sing his heart out to millions of screaming girls fawning over him. Yeah, it must be pretty tough to be Adam Levine.
The 33-year-old frontman of Maroon 5 is rough around the edges with tattoos, tight jeans and some very naughty song lyrics. His is a different kind of irresistibility that even good girls like Jennifer Love Hewitt can't fight. Good luck if you're not a Victoria's Secret model though – we hear that's his type.
Finally, who were the guys who were just shy of making the top 5 most irresistible fellas? They would be (in order): Matt Damon, Barack Obama, Robert Pattinson, Usher, Mitt Romney and Justin Bieber.
Aww... poor Biebs!
Tell us: who is the most irresistible celebrity to you, and why?
Reese Witherspoon
It's so refreshing to see a wholesome sweetheart come in at #5. We love Reese Witherspoon!
The 36-year-old blonde first captured our hearts in movies like Cruel Intentions and Election, but it's her infectious smile and personality that are keeping us fans for life. The actress is also a fantastic mom to her two kids Ava and Deacon, and she has one more on the way with her new hubby, Jim Toth! Clearly, he finds her irresistible too. Reese Witherspoon Is Pregnant With Her Third Child!
Reese rounds out the top 5 ladies on our list. The gals that follow include (in order): Rihanna, Heidi Klum, Katy Perry, Michelle Obama, Lady Gaga and Ann Romney.
Now, it's on to the boys!
Megan Fox
Are you shocked to see this hottie on our list? Yeah... neither are we.
There's something about the foxy little Megan Fox that both men and women can't get enough of, which is why the 26-year-old was voted #4 on our list. Perhaps it's that "you can't touch me" attitude of hers, or those come hither eyes that makes people melt. Even now we can't help but get sucked into them...
If her expected baby is blessed with those stunners, she/he is gonna be trouble!
Jennifer Aniston
Well, consider us shocked! It's Jennifer Aniston!
The majority of men just can't get enough of Angelina's #1 frenemy, and we can see why. Whether it's her confidence at age 43, her undeniable sense of humor or her exceptionally good looks, Jen is a definite catch. That's why she comes in as a short second overall with 17.5% of the votes. Justin Theroux sure is a lucky guy – but he better put a ring on it quick!
George Clooney
Ah, a familiar face is the third most irresistible man on our list – otherwise known as the sly silver fox, George Clooney.
Even though he's definitely old enough to be someone's dad at 51, we love to lust after the eternal bachelor. We know George won't settle down with his current flame, Stacy Keibler, just like we know that his classy wit, charm and gentlemanly reputation (even if he is a prankster) will never go out of style. He's the man every man wants to be, and the man every girl wants to end up with.
Channing Tatum
Whoa, another newbie! It's Magic Mike's Channing Tatum.
Something tells us it's his very impressive moves in the stripper flick that have 18.9% of our voters swooning for the 32-year-old actor (whose name no one can seem to get right). That, or his incredibly hot body or funny sense of humor. Your pick – we won't judge.
But, his wife Jenna Dewan might, so tread carefully, Channing groupies. Just like the saying goes in the strip club: you can look, but don't touch. Exclusive! Channing Tatum On Magic Mike: "Every Dance Ends Naked"
Brad Pitt
How about that – George beat out his hunky BFF, Brad Pitt!
12.2% of our voters chose Brad as the most irresistible, which is probably a low for the 48-year-old actor (especially considering his lady love Angie came in at #1 for the girls). As private as he keeps his life nowadays, the pull of his attraction may not be as strong as it used to be. But no one can deny, when it comes to the quintessential Hollywood heartthrob, Brad Pitt will always be it. Angelina Jolie "Cried" When Brad Pitt Proposed In Front Of Kids
Beyonce
Hey, Bey Bey!
The beautiful songstress (and hot new mama) comes in third on our list with 15.3% of voters digging her irresistible vibe. The 30-year-old can sing her heart out, shake her booty like nobody's business and make women everywhere feel great about being independent and single. Not that she's single – she's been happily married to a guy named Jay-Z for quite awhile now. You may have heard of him. Beyonce Is "World's Most Beautiful Woman" In 2012
Angelina Jolie
According to our survey results, the majority of women think Angelina Jolie is the most irresistible female celebrity. Could it be her lips, that body or the fact that she has the hunkiest fiancé on the planet? Well, it's probably a combination of all three, as 19.1% of voters chose the future Mrs. Brad Pitt over 9 other hot female stars. Mick Jagger Was Obsessed With Angelina Jolie For 2 Years
Interestingly enough, our male readers thinks someone else is even more irresistible than 37-year-old Angie. So, who is it?
Ryan Gosling
Move it, George Clooney! There's a new #1 heartthrob in town – the one and only Ryan Gosling.
According to our survey, both women AND men consider the 31-year-old actor to be the most irresistible stud in Hollywood. 19.8% of voters have fallen under the spell of Gosling's charm, devastatingly handsome features and all-around awesomeness. I mean, who saves absolute strangers from getting beat up or hit by a taxi in the middle of Manhattan streets? Ryan Gosling does. Sigh...
So, who came in at a close second to Ryan?
Previous
Next
BEGIN