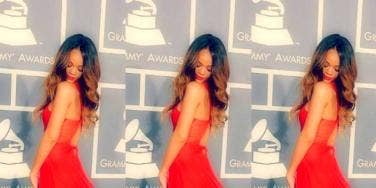 Put the va-va-voom back into your dates with these celeb inspired styles.
Got a date night penciled in for this week? Searching for a hot new sexy hairstyle for this big date night with your guy? Of course you are! We know how it is when you're trying to keep things hot in your relationship, and you're dying to step out in something a little more than your pony and sweats.
Well, seek no further: we've collected a list of lovely looks for locks that are great for a sexy night out (or in, if that's what you prefer)!
From a fishtail braid to curled cascades, you'll love these sexy, fun hairdos inspired by some of our favorite celebrities, including Katy Perry, Rihanna and Kelly Osbourne.
1. Big Barrel Curls
For a beautiful, flowing look like Rihanna's, part hair down the center. Use large curlers on hair's bottom half, then smoothing cream using just your fingers (not a brush). Spritz a bit of finishing spray on for added shine.
2. Silky & Sleek
See how gorgeous (yet effortless) Jennifer Hudson's hair looks with this smooth style? It goes with just about any outfit, but with a pretty cocktail dress, it's just plain perfect. Just straighten bangs and run styling cream through hair using your fingers to get the right shine.
3. Fishtail Braid
This trendy style is still going strong, cropping up all over red carpets and runways. It's an easy, casual look, yet still feels dressed-up enough for special events. Whether you're visiting a museum for the day or checking out a hot new club, the side braid looks lovely for anything.
4. Crown of Flowers
For this cute, easy look, Katy Perry styled her hair smoothly and with a side part, then added a pretty flower headpiece. Going to a lovely beach party or casual restaurant? This is a great option to pair with any relaxed, pretty dress.
5. Elegantly Cropped
This is the perfect low-maintenance style for any woman who loves having her hair short and doesn't want to use a whole lot of product in it. Simply brush it to the side after a shower and let it dry, then add a touch of wax if necessary.
6. Sideways & Secured
I love this simple look, mainly because it highlights Kelly Osbourne's fun hair color and makeup. If you want to play up your eyes or lips using a lot of color, this is a great hairstyle, as it's polished without overpowering the whole look. You can even use a sparkly bobby pin or barrette for added glamour.
7. Front Volume
This look is perfect for the short-haired woman who wants to play up her fun hairdo. Take a large brush and pull damp hair around it, then blowdry to get the hair to maintain that shape. Add some moderate-hold hairspray. Just make sure all hair is sleek and in place; this look can get crazy quickly.
8. Wispy Updo
Rather than pulling your hair back tightly and perhaps looking a bit severe, a calmer updo could be in order, especially if you're not going to a fancy event. Just lightly pull back hair, not worrying too much if little light curls or stray hairs around the face aren't perfectly secure.
9. Curled Cascades
Gorgeous hair swept to the side is a "forever" look for awards shows, but it can also be excellent for your dating life. Simply curl your hair (or, if it's naturally wavy, just give it a bit of scrunch using a hair lotion) and then run your fingers through it, pulling it to one side.
10. Pumped Up
This updated version of a classic updo is the combination of a bouffant and bun, giving the wearer a fun, asymmetrical look for a great night at a cool new club.
Previous
Next
BEGIN