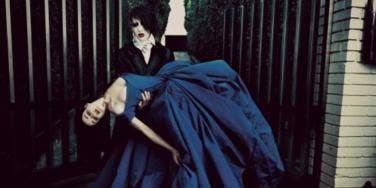 These famous ladies really wowed us with their wedding day style.
Leave it to the rich and famous to take traditional wedding day style and completely flip it on its head!
When celebrities like Gwen Stefani and Sarah Jessica Parker were preparing to walk down the aisle, they didn't want to wear plain ol' white numbers like the rest of us. They made it a point to find (or design) gowns that truly embodied their big, bold taste and personalities, and what resulted were some of the most unique wedding dresses the industry has ever seen.
Lucky for us, we can now revisit these fashion statements whenever we feel the need for some matrimonial inspiration. Check out our gallery below to see which ladies rocked the most shocking and rule-bending gowns over the years!
Photo weheartit.com
Celine Dion's Dress
Celine Dion wedding dress—though huge and Cinderlla-like—wasn't as her choice of a headpiece! The singer married her manager, Rene Angelil, in 1994 wearing a massive, 7-pound tiara and veil that had to be sewn into her hair for support. Can you imagine? Now a mother to twins, she's still married to her long-time love and has a successful singing gig (minus the heavy headgear) in Vegas.
Dita Von Teese's Dress
We didn't think such a unique couple like Marilyn Manson and Dita Von Teese would break up, nor did we think they'd have a fairly traditional wedding. The two dated from 2001-2004, and were engaged and married in 2005. Dita's wedding gown designed by Vivienne Westwood was made with royal purple silk taffeta complete with a long train, petticoat and massively large skirt. Although the marriage ended in 2006, the gown is still referenced throughout the wedding industry to this day.
Gwen Stefani's Dress
No Doubt's lead singer Gwen Stefani is a fashion idol, so we weren't too surprised when she rocked a custom-made John Galliano pink and white silk faille gown for her 2002 nuptials to Bush rocker Gavin Rossdale. When referring to the dress (which is now in the V&A museum), Stefani told Elle UK: "I wanted it to be over the top, but not traditional - I wanted it to be everything." Luckily for this songtress/designer, her marriage is still going strong and she has two equally fashionable sons, Kingston and Zuma.
Kelis' Dress
Hip-hop favorites Nas and Kelis left their wedding with smiles of joy in January 2005. Kelis had designer Matthew Williamson design her a wedding gown inspired by fruit colors such as watermelon, kiwi and cucumber. Williamson said of her request: "Kelis is a bit of a diva. I did her wedding dress in January, and that was a journey and a half." We guess her diva ways had something to do with her marriage to Nas ending in 2009 while she was seven months pregnant. Maybe she should've stuck to a more traditional wedding dress!
Marilyn Monroe's Dress
When Marilyn Monroe married Joe DiMaggio in January 1954, the Hollywood starlet wore a black skirt suit with a white fur collar. It was her second wedding (she was married to a police officer James Dougherty before), and accessorized her dress by carrying a bunch of white orchids. Marilyn and Joe's marriage may have only lasted 274 days (which is still longer than Kim Kardashian's!), but the impact of her most unique wedding dress remains. 5 Love Lessons From Marilyn Monroe
Mia Farrow's Dress
Actress and human rights activist Mia Farrow has always been a bit rebellious. She shocked people in 1966 when she wed famous crooner Frank Sinatra, then 50, when she was merely 21. Fans were equally confused by her choice of a shapeless shift dress with a cropped jacket and simple pumps. Not to mention, her hair was incredibly short at the time. The couple lasted two years together before they went their separate ways.
Sarah Jessica Parker's Dress
We've always loved Sarah Jessica Parker and her fashion sense on Sex and the City, but the actress wasn't always a fan of her wardrobe choices, particularly on the day she secretly wed her long-time love, Matthew Broderick, in 1997. She admitted she regrets rocking this black, ruffled wedding dress, but we wonder how she feels now that black is so in (just check out Vera Wang, SJP!). Good thing she doesn't regret her choice of a husband, because she and Broderick are still a dashing pair!
Yoko Ono's Dress
Yoko Ono famously wore a white mini dress with a sun hat, over-sized sunglasses and white knee-highs for her March 1969 wedding to John Lennon. Friend Zsa Zsa Gabor once described the couple as looking like "two people going to hold up a bank." Maybe she was right, but at least the newlyweds had all they needed: love. Their sensational and young marriage came to a sad end when Lennon was shot and killed in 1980, when his son was only five. We believe these two would have really lasted.
Previous
Next
BEGIN