Photo: WeHeartIt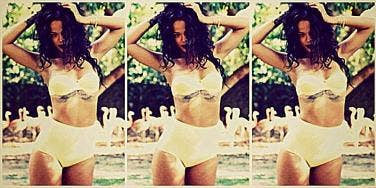 Don't wait to start building your beach body, these hot ladies certainly don't.
Knowing you look sexy when wearing a bikini in the warm spring and summer months is the best feeling in the world. C'mon you know it, ladies — that's why we spend our time on Pinterest pinning new workouts or flipping through magazines for celebrity inspiration. But, what's even better is knowing you've got summer bod ... in the winter.
No man can resist the allure of a confident woman, and you'll be one on the beach all year around! No more hiding underneath a cover-up or large t-shirt, because you're going to start working out and eating right like the following 19 celebrities (and these aren't lingerie models, either).
You owe it to yourself to get healthy and feel amazing in your own skin. So, consider this your visual motivation and #FitnessGoals you look to, to get the (stability) ball rolling:
1. Jennifer Lopez
Want to have a bod like J.Lo? The hot singer takes her fitness very seriously and focuses on her cardio.
"[I'm like] a fighter, going into the ring. I do my cardio and I do my workouts with the Tracy Anderson Method," Jennifer Lopez tells PopSugar. "Sometimes when I get home and I'm not feeling so great, I make myself go to the gym."
2. Julianne Hough
Ryan Seacrest's former squeeze, Julianne Hough has a killer beach bod, which she owes to working out religiously and toning up for her former gig on Dancing With the Stars and starring in the remake of Footloose.
Here she was on the beach in St. Bart's. "I vary my workouts every day because, otherwise, I get bored," Hough told Self in November 2011. "I always try to run for 20 to 40 minutes on the beach first. Six days a week is fantastic, but four is great, too."
3. Lea Michele
Glee star Lea Michele's figure seemed to mimic her career — as her star rose on the hit FOX show, her muscles grew and her middle shrank. It's a transformation the star credits to maintaining a vegan diet and working out a lot (when she's not filming 70+ hours a week!).
"I get outdoors a lot," she told Zest Magazine. "I love to hike, ride my bike, and rock climb. They're not just brilliant workouts, they're like therapy, too, because they help to clear your head. I also do Bikram yoga; I could be in that hot room all day!"
4. Maria Menounos
Extra host Maria Menounos once braved the NYC cold in an itty, bitty bikini after losing a bet that the New England Patriots would win the Super Bowl a few years back. We were impressed by how a TV personality who wouldn't have to show off any skin until the warmer months, was totally in shape in the dead of winter and by the looks of it, she's still got it!
Variety's important to me, not a strict gym routine," the star, who runs, plays basketball and practices yoga, told Self. "It kills two birds with one stone: It's a social event and a workout."
5. Vanessa Hudgens
It seems like this former Disney princess is always in a bikini! But hey, if we had a beach-ready bod like that all the time, so would we. Here she is frolicking with her beau Austin Butler! Hudgens' trainer, Logan Hood, had the star doing some serious workouts for her role in 2011's Sucker Punch, including pulling heavy tractor tires and ropes. Yikes! We'll stick to her much less intimidating Spin workout, as told by Shape Magazine.
6. Rihanna
Her love life may be a bit of a mess, but Rihanna's figure is nothing short of perfect.
Her famous celebrity trainer, Harley Pasternak, recently revealed how he helps the singer maintain her awesome shape. "With someone like her, it's about the fine tuning," Pasternak tells People. As of late, the singer has been doing 30 minutes of cardio with training sessions five days a week.
7. Megan Fox
When photos of hottie Megan Fox vacationing with her, now ex-hubby (Brian Austin Green), in Hawaii hit the web, she became one of the most Googled names of the week. There's something about Fox that attracts, both, men and women alike.
So, how does she stay so foxy? Although she confesses she hates working out, she does have a trainer come to her house three times a week for strength training and cardio.
8. Jennifer Aniston
How has the beautiful actress stayed in such great shape after all these years? Her trainer and yoga, of course!
"I work out with [Aniston] about three times a week, and we'll start off warming up with a cardio routine," her trainer, Mandy Ingber explains to InStyle. "And then we'll go into a yoga routine."
9. Heidi Klum
The Victoria Secret supermodel says her bikini body is built from healthy decisions!
"I pretend it's bikini season all year and regularly make healthy decisions. My favorite workout is a long run along the Westside Highway, which stretches along the Hudson River in New York City ... it's a beautiful path, and you always feel surrounded by such an amazing community. You see the same people running every morning, and they inspire me to keep going. That and knowing there is a Starbucks coffee at the end of the route!" Heidi Klum tells Glamour.
10. Demi Lovato
Demi has struggled with body image before, but now she's on a healthy track and she looks great.
"Christina Perri is on tour with me, and we're both huge fans of SoulCycle, so we actually brought bikes with us. Christina's taken a ton of classes, and she tells me what to do. It's super fun, and we usually drink a green juice or protein shake afterward and talk. It's nice to get some quality girl time in, too," revealed Demi to Fitness.
11. Katy Perry
The pop star is all about doing high-intensity workouts in order to get in shape.
"Katy aims to exercise five days a week, doing short, high-intensity workouts, including lunges and hip thrusts," her trainer Harley Pasternack says to Closer. "These tone, as well as boost her metabolism, and can be done anywhere."
12. Ellie Goulding
This singer stays in shape by regularly running six miles, but to switch things up she has been known to also add a little boxing to her routine. Goulding is such a workout inspiration that she has partnered with Nike+ Training app and designed a workout!
"I feel quite proud to be an ambassador for women who realize that being fit is better than being skinny," says the stunning blonde in her "A Melody of Movement" video. "I think my passion for exercise and my passion for performing on stage they're starting to intertwine slightly because I'm having to be fit to do all the things I want to do on stage, and I end up running around and jumping around and I'm really using a lot of energy."
13. Beyoncé
Queen Bey has a routine that is all about keeping her curves and staying strong. She also sticks to a plant based diet which includes vanilla chia pudding with fresh berries and hemp hmmus with raw vegetables.
"Shaping the muscles at 360 degrees is important to maintain a feminine figure, rather than the conventional linear motion you see by using machines at gyms," explains celebrity trainer Nicole Winhoffer to MailOnline.
14. Blake Lively
Want to get slim like Blake? You should grab a couple of dumb bells and a Swiss ball then get to moving!
"If you only have time to put in three days a week, make sure it's high intensity (push the weight and repetitions to your maximum comfort level) and you'll still get results," says her trainer, Bobby Strom. "Minor diet tweaks and healthy, conscious eating will get you faster, better results."
15. Christina Milian
Sexy singer/actress Christina Milian, doesn't have a physique like this because she's always chasing after her almost daughter, Violet. She's worked really hard for her killer curves.
"I have to work out because in my family we don't have those great genes where you can just eat whatever you want and stay skinny," she revealed to Shape Magazine. "When I'm really trying to get in shape for a role or going on the road, I work out six days a week, sometimes twice a day. I'll do 20 minutes of jogging on the treadmill, 20 minutes of squats and light weights and another 20 minutes of ab exercises. I'll also cut down on carbs and red meat and eat more greens, more vegetables."
16. Kate Beckinsale
Who knew the back of Kate Beckinsale looks just as good as the front? The mother of two has always had a svelte figure, but she really got into fighting shape once she started the Underworld tetralogy in 2003. For the latest installment, Underworld Awakening, Beckinsale's celebrity trainer, Ramona Braganza, toned her body 3-5 days a week on set. "Because we've worked together before, I know she always likes workouts with yoga-inspired moves," Braganza told Shape. "To look like Kate, do exercises that you enjoy so you can stick to a program. Change up your workouts and kick it up for a shorter period of time to make it more intense."
17. Sofia Vergara
Sofia Vergara is the sexiest female on primetime television – and you know this because your man can't stop staring at her during Modern Family. And yet, the star doesn't break her back like other celebs to be a stick figure. "I can't wake up at four in the morning to exercise," she told ABC News last month. "If I have to be on the set at six, I work out on the weekends ... It's a reality that for you to be healthy, you need to be at the right weight. You are what you eat. It takes effort. I'm not trying to be skinny like a supermodel but I don't want to be overweight. I want to feel good and I want to look good."
18. Bethenny Frankel
Reality TV mama Bethenny Frankel looked svelte and toned emerging from the water in Miami. The star has dedicated her career to helping others be a "Skinnygirl" like her, with her super successful SkinnyGirl Cocktails and Bethenny's SkinnyGirl Workout DVD.
" I used to be a binge exerciser," Frankel admitted to Self in September 2011. "Now I'm a person who fits it into my lifestyle. It's consistent, but not regular. I do it when I can. It ends up being 2 to 3 times a week." Well, it's definitely working!
Photo: Pinterest
19. Venus Williams
This tennis player owes her beach body to training hard! If you want to look like her then get ready to hit the gym.
"I get up in the morning and I go to the court for about two hours or three hours and then I go to the gym for another two hours or three hours. A lot of time I will stretch and do rehab for an hour. It's kind of a nine to five thing with a full day of working out. I do anything like ride the bike, the elliptical, swimming, or sprinting things like that. And I do arms, legs, and core," Vanessa tells PopSugar when asked out her training days.
Previous
Next
BEGIN