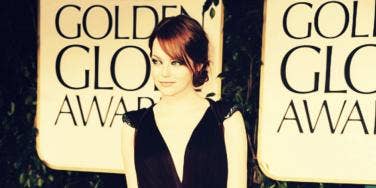 The red carpet is always full of sultry trends that you'd be silly not to try yourself!
If you're not a football fan, your TV is surely tuned in to the Golden Globes red carpet coverage every winter. There are typically as many highlights in terms of fashion and beauty as there were in Giants touchdowns, which leaves fashionistas like us screaming at the TV in excitement.
Actresses like Sofia Vergara, Angelina Jolie, Claire Danes and Emma Stone stun in gorgeous designer gowns and perfect hair and makeup. There are so many sexy trends that could work perfectly for the rest of us when we have a hot, sexy date. If you weren't taking notes, don't worry, we have it all covered! Here are some sultry looks you can rock on your next sexy date night:
Photo: weheartit.com
Bare Your Legs
Charlize Theron's legs go on for miles, and she certainly proved that in this Christian Dior couture gown. Although she didn't take home a Globe for her performance in Young Adult, she certainly turned heads with her double whammy of a plunging neckline and a short, front hemline.
If you have long legs, flaunt them on your next date night in a short cocktail dress or skirt and sky-high heels, and prepare to see your date's tongue wag!
Bare Your Shoulders
Bare Your Shoulders It's hard for Sofia Vergara to not look good, but she looked perfect while posing in the press room after Modern Family won Best TV Series - Musical or Comedy. Besides her curve-hugging navy blue Vera Wang gown, all eyes were on her soft, golden shoulders and toned "guns," as she referred to them.
Men think an exposed collarbone is hot, so slather on some faux tanner and let those shoulders glow in a strapless dress or top!
Try Sexy Waves
Reese Witherspoon's blonde, "California sexy" tresses were the perfect contrast to her more proper Zac posen gown. The actress' hair was tousled and curled just enough to look done, but not overdone -- something that signifies to men that you care what you look like, but are by no means high maintenance (i.e. no waiting two hours for you to get ready).
To get this look for your date, prep your hair with a styling mousse, curl sections with a curling iron, then rake your fingers through to separate and loosen the curls and set with a little hairspray.
Accessorize Your 'Do
Michelle Williams accented her perfect pixie haircut with a stylish headband that matched her navy blue Jason Wu dress. The look was sweet as sugar!
If you have short hair as well, a headband is a great way to add just enough of a feminine touch so you feel like the lady on your man's arm.
Go Seriously Sheer
Peek-a-boo! We see you, a lot of you, Ms. Lea Michele! The Glee actress wore a sheer Marchesa gown on the Golden Globes red carpet that left little to the imagination. We love this trend that we've been seeing all over the runways, but in real life, a little sheer can go a long way.
To playfully tease your date and ignite his imagination, don a tight, curve-hugging tank top underneath a sheer blouse, or find a top that has sheer shoulders or sleeves. The name of the game is to show just enough hint of skin, because skin is always in on date night!
Support Your Girls
Kate Beckinsale has been blessed with many things: a hunky husband, a great movie franchise and one amazing figure. Just look at her girls peaking up to say hello in this strapless Roberto Cavalli gown! The structured bodice of the dress gives her the support she needs for the perfect amount of cleavage that's sexy, not sleazy.
Follow Kate's lead and push up your globes just enough to pique your date's interest.
Redden Those Lips
Ahhh, if that isn't the face of perfection! The tip of Angelina Jolie's white Versace gown perfectly matched her crimson lips, which resulted in one powerful look. Although Brad Pitt's other half didn't win for Best Foreign Language Film for her directorial debut, In The Land of Blood and Honey, she will definitely win on some best-dressed lists.
She's smart to highlight her most famous assets (her lips), and if you have a plump pout, take a page from Angelina and flaunt them for your man!
Take The Plunge
Speaking of plunging necklines, Evan Rachel Wood showed us how to do it right in her Gucci Premiere peacock gown. That neckline is almost down to her belly button! But, she makes it look classy rather than trashy by keeping the rest of her look subdued, including her makeup.
If you want to rock a dress or top with a dangerously low dip, keep it the focus and keep everything else—hair, makeup, jewelry—simple (and don't forget that body tape!).
Smoke Up Those Eyes
Perhaps Emma Stone got the idea for her sexy, smoky eyes from her pal, Editor of InStyle, Ariel Foxman. The two attended the InStyle and Warner Bros. Post-Party at The Beverly Hilton hotel after the awards show, and Emma's dramatic eye makeup was perfect for the late night festivities.
If your date is taking you to dinner and dancing or some other after-hours fun, a smoky eye is a definite "do."
Show Off Your Back
A big winner, Claire Danes took home the Globe for Best Actress in a TV series for Homeland at the 69th annual Golden Globes, but everyone was buzzing about her backside. She put her best back forward on the Golden Globes red carpet in a dazzling dress by J. Mendel.
If you have a slender shape, wearing a backless dress or top is a great way to sexily show off some skin while leaving plenty to the imagination.
Better Yet, Wear Red
Stacy Keibler was a vision in a slinky, red Valentino gown, which her then-boyfriend, George Clooney, reportedly picked out himself! "I showed him a picture of it and he approved," Stacy said on the red carpet.
It just goes to show that men really are turned on by the color red, so use this to your advantage on your next date. Whether you choose a red blouse, red skinny jeans (so in right now) or a full, head-to-toe look a la Ms. Keibler, your guy will certainly take notice.
Previous
Next
BEGIN