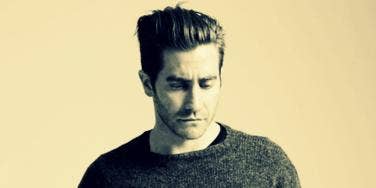 These famous men are confidently going stag.
George Clooney, America's number one bachelor just tied the knot! I know. When you're done cry, don't you worry, because we've been keeping tabs on the celebrity bachelors.
Whether they've yet to meet their leading lady (or it didn't work out with her), all of these men possess confidence, talent, passion, class... and devilishly good looks. What's hotter than that?
Check out our photos to see why stars like Bradley Cooper, Chace Crawford, Alexander Skarsgard and more are the picture of "single man" perfection!
Photo: weheartit.com
Chris Evans
In the What's Your Number?, Chris Evans helps Anna Faris' character revisit her 20 former relationships to find her true love. When it comes to love for Chris, he's dated a number of some of Hollywood's finest: Jessica Biel, Kate Bosworth, Gisele Bundchen, Christina Ricci, Emmy Rossum, Minka Kelly, Kristin Cavallari... Now that we think of it, the premise of What's Your Number? may have been based on him!
Alexander Skarsgard
In True Blood, Alexander's character, Eric Northman, is embattled in the ultimate love triangle. But, when it comes to the Swedish actor's real-life romances, it's anything but complicated. He recently ended a two-year relationship with Kate Bosworth in July, and is clearly on the hunt for the right girl. He revealed in 2010 that when it comes to dating, "It's not about what you do, but who you do it with – that's most important. If you are with someone who is awesome and having a good time, you can sit at a bus station and still have fun." Alexander Skarsgard Only Lasts 8 Seconds In Bed
Photo: ryanseacrest.com
Chace Crawford
Gossip Girl fans rejoice! Chace Crawford is back on the market after being in a relationship with Rachelle Goulding. Since Gossip Girl ended, he has guest starred in Glee, and films Eloise, Mountain Men and Undrafted.
Photo: EOnline.com
Gerard Butler
Say what you will about Gerard Butler, but his accent and face is an excellent combination. The actor has toyed around with romantic movies like P.S. I Love You and The Ugly Truth. He is also a big action star so he gives audiences a great variety. He was previously linked to a model, but they have split.
Photo: macsmagazine.com
Zac Efron
Zac Efron has certainly grown from his High School Musical days! Now that he has gotten rid of the longer hair, and added some muscle tone he is totally swoon-worthy. He has been in more comedies lately like The Awkward Moment and Neighbors, which is totally fine with us.
Photo: Just Jared
Liam Neeson
Sadly, Liam Neeson is now a widower due to his wife, Natasha Richardson dying in a terrible ski accident. Since then he has been working nonstop in action movies. Liam is definitely sexy even though he is a man of a certain age. Many young ladies would love to be rescued by him.
Photo: LiamNeeson.net
Usher
Usher is back on the market after being married for two years with Tameka Foster. The break was definitely messy, but Usher made a lot of good honest music afterwards that have made female audience melt. He certainly isn't perfect, but his voice, looks and dance moves are a huge plus!
Photo: hiphopenquirer.com
Jake Gyllenhaal
Jake Gyllenhaal might set a world record with the number of actresses and singers he's romanced. The list includes Reese Witherspoon, Taylor Swift, Olivia Wilde and Anna Kendrick. He's currently rumored to have rekindled his former relationship with ex-Rilo Kiley singer, Jenny Lewis, earlier this year, but the verdict is still out. The heartthrob is obvously on a quest to find true love.
Shemar Moore
With former flames Halle Berry and Toni Braxton under your dating belt, it's definitely hard to find other women that can compare! But Shemar Moore of Criminal Minds is still optimistic about finding "the one." In 2008, Ellen DeGeneres asked Shemar who he'd date in Hollywood, and he couldn't help but admit his affections for Jennifer Aniston: "A lot of guys got a crush on this girl, but she can't seem to find that man who can get it right, and I just want to raise my hand and try," Shemar said. "And that's Ms. Jennifer Aniston." What a gentleman!
John Mayer
The heartbreaker has been linked to Taylor Swift, Katy Perry, Jennifer Aniston, Jessica Simpson, Cameron Diaz, and so many more.
Although his personality is questionable, his music is beautiful. He also seems to have a sense of humor since he has been filmed pranking a couple of unexpecting people.
Photo: USMagazine
Previous
Next
BEGIN