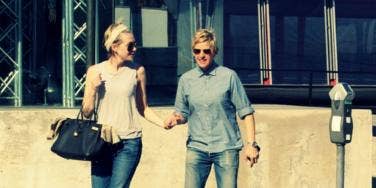 We're admiring the famous stars who took that brave step.
National Coming Out Day is October 11. It's a day that should be celebrated by everyone: gay, straight, lesbian, transgender or bisexual. It's a celebration of people being honest with themselves and those who care about them—a very honorable thing, that's not so easy to do.
It takes an incredible amount of strength and bravery to come out of the closet, something that both celebrities and the average Joe can attest to. We can only imagine the amount of pressure famous faces such as Ellen DeGeneres, Elton John, Chaz Bono and others felt to come out to not only their loved ones, but the world, all at the same time!
The following eight celebrities announced their sexual orientation the best way they knew how, and they all admit it was the best decision they've ever made. Hopefully, their experiences will inspire others today to come out from hiding. If they could do it, so can you.
Photo: weheartit.com
Adam Lambert
No one was surprised when American Idol alum, Adam Lambert, came out to Rolling Stone in June 2009, including him!
"I don't think it should be a surprise for anyone to hear that I'm gay," the singer told the magazine. "I'm proud of my sexuality. I embrace it. It's just another part of me."
Yes, Adam's sexuality is just another part of him, just as much as heavy black eyeliner and sequins are in his raunchy stage performances. But at least he's comfortable in his own skin!
Chaz Bono
Current Dancng With The Stars contestant, Chaz Bono, referred to his sexual reassignment from female to male as "the best decision I've ever made." The child of Cher and Sonny Bono, Chad (originally, Chastity) has said that he felt like a boy from "as far back" as he could remember. When he finally made the decision to change his outside to reflect what he was feeling inside, the transformation was monumental.
"Life is short and life is precious," he once said on Good Morning America. "This is who I am and I need to finally be who I am... I am happier, more confident. I feel great... It would almost be easy to say why did I wait so long to do this, except I'm a person who believes things happen when they're supposed to happen. I was ready when I was supposed to be ready."
Ellen DeGeneres
Ellen DeGeneres is arguably the most famous lesbian in Hollywood – and it doesn't hurt that she's also one of the most successful females in the business, period. The talk show host revealed her secret (and made history) back in April 1997 by writing it into the script of her hit sitcom, Ellen.
When asked what motivated her to come out, Ellen said, "I never wanted to be 'the lesbian actress.' I never wanted to be the spokesperson for the gay community. Ever. I did it for my own truth." p Despite what she may or may not have wanted, Ellen is the most iconic face of gay women, and her loving marriage to Portia de Rossi is an inspiration to other women like her that they can have it all.
Elton John
Speaking of same-sex parents, Elton John and his husband of 6 years, David Furnish, welcomed their first son, Zachary Jackson Levon Furnish-John, in December 2010.
Like Chaz Bono, Elton John says coming out was "the best thing" he's ever done – but he did it way before anyone else in the spotlight was!
"I came out in 1973, at the height of my career," Elton told The View last year. "And yeah, it hurt me a little bit, but not that much, and it gave me the freedom to be who I was for the rest of my life. I don't have to hide around corners."
Jane Lynch
Nothing can stop Jane Lynch! She killed it as host of the 2011 Emmys, and has been killing for a while as the tracksuited-up snob, Sue Sylvester, on Glee.
She's a confident woman, which is why it's surprising that she needed a little inspirational push from Ellen DeGeneres to come out of the closet. When appearing as a guest on Ellen's talk show in 2010, Jane revealed, "I used to lay in bed and go, 'How will I come out or will I come out?' You were at the height of your fame and you came out. And that just blazed a trail for me. It really did. It made it so much easier for me, what you did."
Neil Patrick Harris
In November 2006, Doogie Howser told the world through an interview with People magazine:
"I am happy to dispel any rumors or misconceptions and am quite proud to say that I am a very content gay man living my life to the fullest and feel most fortunate to be working with wonderful people in the business I love."
Ever since, Neil Patrick Harris has been enjoying life playing a straight playboy on the hit show, How I Met Your Mother, and (in real life) is happily engaged to David Burtka. The two are proud papas to adorable twins, Gideon Scott and Harper Grace, who were born via surrogate in October 2010.
Ricky Martin
We're sure a lot of women's heart's broke when Ricky Martin revealed he was gay after Barbara Walters outed him in an interview in 2000. She put him on the spot, so much so, that he felt compelled to write a public response which stated, "I am proud to say that I am a fortunate homosexual man. I am very blessed to be who I am."
But once he was out, the Latin singer was out. He's the proud parent of twin boys that he had via surrogacy, and the author of the juicy memoir, Me, in which he reveals he has a kinky alter-ego, known as KiKi. Ricky Martin's 'KiKi' Side Is Kinky
Wanda Sykes
Wanda Sykes is a very funny comedian, but she didn't find anything funny about California's passing of Prop 8 in 2006, which refused gays the right to marry. To stand up against it, Wanda told a crowd in Las Vegas:
"You know, I don't really talk about my sexual orientation. I didn't feel like I had to. I was just living my life, not necessarily in the closet, but I was living my life. Everybody that knows me personally they know I'm gay. But that's the way people should be able to live their lives... I'm proud to be a woman. I'm proud to be a black woman, and I'm proud to be gay." Wanda Sykes Literally Comes Out
On that pivotal day, Wanda also announced that she had married her longtime partner, Alex, a few months prior. Now, the couple have twins, Olivia and Lucas, and Prop 8 has since been overturned.
Amber Heard
When she was 24 and just starting to make a name for herself in Hollywood with roles in Zombieland and Pineapple Express, Amber Heard, who is now engaged to Johnnt Depp, made it a point to talk openly about her sexuality.
"I think GLAAD is one of the many reasons that I, as a 24-year-old, can come out," she told AfterEllen.com in 2010. Previously that week, she attended GLAAD's 25th Anniversary Party arm-in-arm with her artist girlfriend, Tasya van Ree. It was certainly one way to come out in style!
Photo: weheartit.com
Previous
Next
BEGIN