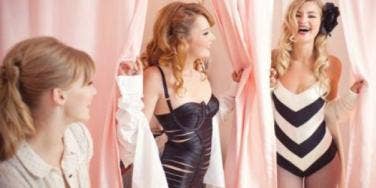 A lingerie designer's expert tips on how to throw a sexy & fun party for the bride-to-be!
For some blushing brides, unwrapping boxes and boxes of sexy lingerie at a bridal shower (in front of the mother-in-law) is reason enough to elope. But, I have some tips for the best bridal lingerie party ever (and a sexy one)!
This is one of the only times in a woman's life where her friends all gather in one place to celebrate her friendship and femininity as they send her off to the next phase of her life. So have fun! If sexy strippers and penis candles aren't for your bride, a lingerie party is a perfect way to giggle together and spoil her and make her feel sexy.
Find out all of my steps to throwing the perfect celebration in the gallery below:
Make The Guest List
If the thought of lingerie and mothers-in-law is just too embarrassing, invite girlfriends only to this event.
Find A Lingerie Expert
Invite a lingerie expert to facilitate the party. At Lola Haze TM, we send a lingerie expert to your party (if it's based in NYC) along with an assortment of special lingerie goodies to spice things up and get the party rolling. Guests can try on goodies and shower the bride (or themselves) with fanciful gifts. Even better: if the group purchases 5 pieces, the 6th is a free gift for the bride!
Not in NYC? Do some research for lingerie stores or experts in your area who might host or facilitate. And don't forget to look for deals, promotions and added incentives to make your bride feel special!
Pick Out Lingerie!
What every bride needs on her honeymoon: Anything goes for a honeymoon! Surprise your partner with a new look every night, and try to mix them up. This is your chance to express the many sexy and romantic sides of you. Start with a classic white chemise, which remains a traditional mainstay of honeymoon romance.
... Or A Sexy Bra & Panty Set
A very sexy bra and panty set are always a winner after a nice dinner out, and if you want his memories to truly last a lifetime, add stockings and garter.
... Or A Flirty Romper
Don't forget a comfy piece, like a romper, that you can easily slip into to just relax together after a long day and night...
Stay Away From Frilly & White
I love that bridal lingerie no longer just means frilly and white. Modern women want more modern lingerie, which means bright colors and bold silhouettes – anything that feels sexy! A best-seller of mine for bridal season is the silk chiffon Daisy Teddy.
Invest In Lingerie To Please...
What kinds of lingerie are sure to please any hubby? Of course tastes vary, but in my line of work, I talk to a lot of people about lingerie preferences and I've found there are a few looks universally appreciated my men:
1. Black thigh high stockings under a day dress—always a welcome surprise
2. Transparent fabric, like mesh or silk chiffon, in any silhouette or color
3. Balconette or demi bras paired with string bikinis or thongs
Oh men...you are simple creatures, and easy to please!
Previous
Next
BEGIN