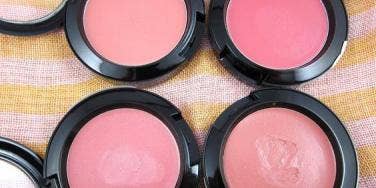 Versatile beauty products you can't live without.
Grab your makeup bag and dump it out. Now think about which of the products you're looking at are absolutely essential, and set them aside. Are there beauty tools you can't live without? Chances are, you just set aside most of the stuff in there.
Well, sometimes it helps to simplify your life — and your beauty routine. As a professional makeup artist, here are my recommendations for what you really need to carry in that cosmetics bag, especially if you're getting ready for a big party or date night, and just can't seem to get your many products together. Some of these staples — like Vaseline — may surprise you, but trust me, lots of products that don't seem particularly glam do double duty and work wonders on your face. After all, our Irresistible You (IY) survey revealed that 41 percent of women find putting on makeup is one of the most self-confidence boosting activities. Ready to boost yours?
Bold Lipstick
A bold lip color need not be synonymous with a bright red pucker. In fact, if you frequently wear scarlet hues, a bold lip for you could be something nude and subtle. Whether you typically use just a bit of balm in the morning or you adore your bright mattes, try doing something completely different from your day-to-day. If you're a natural girl, transition gradually to a brighter color using a tinted pomegranate balm or sheer red gloss; if you're particularly daring on a certain day, you can even try a matte version and see how you feel about it. Going outside of your comfort zone feels adventurous and can boost your self-confidence—especially when you realize how fantastic you look in a new shade or texture!
Perfume Roller
These days, most major fragrance producers make a smaller version of their scents. In addition to being conveniently purse-sized to fit any situation, rollers are perfect for a girl who loves to change up her style on a regular basis. It's the absolute best way to try a scent repeatedly before buying the larger (and no doubt more expensive) bottle, in order to ensure you love it enough to invest. For summer, try a freshly romantic scent like Flowerbomb by Viktor & Rolf—it comes in multiple mediums (cream, hair mist, perfume and lotion) as well as sizes.
Liquid or Gel Liner
While most properly applied liners enhance your eyes, liquid and gel liners give your peepers a stunning, precise and modern look that can't be attained any other way. If you're afraid to apply it due to shaky hands, try this easy method to creating the perfect cat-eye: When looking in the mirror, place your elbow on the table or vanity to steady your arm. Rest the palm of whatever hand is holding the liner to the bottom part of your face and, with the opposite hand, pull the skin taut on the eye you're about to apply makeup to. Draw a simple line from the inner corner halfway, then finish the line from the outside going inward. To complete the winged look, make a small, upwards "U" at the outer corner of your eyelid and fill it in. If you plan on using gel liner, use a thin brush to apply.
Highlighter
Even if you have very little room to carry cosmetics in your purse, be sure to save a slot for this miracle product. Highlighter not only accentuates the parts of your face you love, it can also improve the parts of your face you don't particularly care for. Blend a small amount of highlighter onto the tops of cheekbones to accentuate your bone structure, in the inner corners of eyes and under the brow arch for a more open look, and very lightly on the bottom lip's center for an added pout. Only have a moment to get luminous? The quickest way to give your face a dewy freshness is to mix tinted moisturizer with a dot of highlighter and apply it in circular motions as you would with normal moisturizer. Don't overdo it, though—you could wind up looking less glowing and more glittery. One of the most tried-and-true of all highlighters is Benefit's Highbeam.
Falsies
There are only a few specific items that can completely alter your look, and false lashes are on that list. Falsies come in a massive variety of shapes, styles, lengths, colors and materials for every possible occasion, so you'll never get bored of them since there's always a new type to try. Whether you want to wear them every day as simple eye enhancers—in which case, using individual, lightly-curled lashes with one coat of mascara applied afterward is the way to go—or put some fabulous feathered flair on your lids for a special occasion, there are fakes that coordinate with any outfit. Both MakeUp Forever and MAC's fake lashes are of incredible quality and are great if you plan on reusing them time and time again, but if you're looking to try something extra wild as a one-time thing, perhaps opt for a brand from your local beauty supply store for a less expensive choice. But make sure to invest in a high-quality lash glue: Not only are they more reliable and last longer, they're less likely to irritate your precious peepers.
Eyebrow Filler
Your eyebrows are the most important element to ensuring the eyes look beautiful, so fill in your brows to make the most out of 'em! Many women choose to use a brown pencil, but these often look too hard unless done perfectly, precisely and very lightly. A much easier and more forgiving alternative that also looks the most natural is a powder filler. Simply take an angled brush and, using a matte shadow or actual brow powder one shade lighter than your natural hairs, sweep it in short, light motions in the eyebrow area. Remember: Less is more when it comes to filling in eyebrows. Using too much can make you look theatrical. A particularly excellent and long-lasting product for this purpose is Clinique's Brow Shaper.
Dry Shampoo
Don't have the time to shampoo, conditioner, dry and style your hair each morning, but also don't want to look like a hot mess? Dry shampooing is the way to go. Just squirt some into your hands and massage into hair close to the scalp, then brush through. Baby powder is a simple substitution, but the smell might be a deterrent for some. With foam dry shampoo, you get the anti-grease benefits of powder, the sweet scent of freshly-washed locks and the volume power of a mousse—all in seconds!
Cream Blush
If any product can give your face the most life in the shortest amount of time, it's blush. Generally, fairer skins should look for pinks, mediums look best with tawny or rosy shades, yellow complexions work well with peaches and corals, and darker skin tones should try wine and burgundy shades. Of course, every face is unique, so go by your instincts. Having blush in the right shade for your skin tone is integral to receiving its benefits, so be sure to check out any prospective buys in the daylight: If the color you've chosen looks like the results of a good workout or hot shower (i.e. what your natural blush appears as), then it's the one for you. The advantages of cream blush are endless: There's no need to carry a brush—warm fingers work perfectly well, it's longer-lasting than powder versions, the blending looks more natural than most other kinds, and it's easier to blend than gel products.
Concealer Brush
Whatever concealer you choose to use—whether it's lightweight or a thicker version, liquid or cream—the best way to put it on is with a brush. This offers even, blendable coverage that is applied in a precise manner. Always keep your brushes clean and store them in a dry place to ensure that they won't gunk up your makeup or clog your pores with bacteria. A great option that won't break the bank is Sonia Kashuk's Brush Couture 5-Piece Set: This famous makeup artist's line is renowned for its brush quality and at $16.99 for five tools, it won't break the bank.
Vaseline
Keep a jar of this in your house at all times: This simple product serves dozens of different purposes and is dirt cheap, so there are no excuses not to own some. If you enjoy dyeing your hair at home, you can apply Vaseline to your hair line and neck in order to minimize the skin-staining effects the dye may otherwise cause. Dry knees and elbows? Massage a bit of petroleum jelly into them. Many women also insist that putting a bit of Vaseline on lashes each night makes them grow longer and thicker -- a great alternative to expensive lash-growing formulas. If you're the experimental type with regard to makeup, try mixing a small amount of jelly with loose powder shadow and apply it to lids with a brush. It'll create a shiny, alternative look that you'll love to show off.
Previous
Next
BEGIN