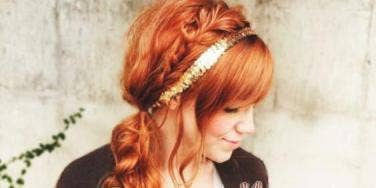 Hair, makeup, nails and more to make you Valentine's Day-date ready.
Looking for some fun beauty ideas, just in time for Valentine's Day? We've rounded up a list of tips, tricks and trends to make you date-ready.
Cat Eyes
The "cat eyes" look for eyeliner is super hot right now, and I don't think we don't have to tell you why men love it. It's just sexy, come on! Cat eyes can be as subtle or vampy as you wish. If you think you can't do this neat eyeliner trick, think again. As you can guess, there are tons of eyeliner tutorials on Pinterest.
But Go Nuts With Your Pedicure, If You Wish
While it's smarter to keep your nails simple, surprise your guy with some crazy toes this winter! Hopefully your friends and family will see them too so your artistic pedicure prowess isn't completely wasted on just your dude — but who knows, he'll probably appreciate it! There are so many fun pedicure ideas and how-to's on Pinterest, like this one for marble-print nails (amazing — and it's for a mani, but you get the idea) and this fun idea with flowers. And hey — it's good practice for summer.
Smell Nice & Spring-Like
Time to put away your winter perfumes and try something lighter, airier and happier like the new Clinique Happy In Bloom. Clinique Happy is one of my absolute favorite spring and summer fragrances, with its light, flowery notes. Men aren't huge fans of musky, heavy perfumes anyway, so winter is the perfect time to give yourself a scent makeover.
Side Braid
I cannot overestimate how huge side braids are. Blame last year's runway shows. And what's not to love? Practical but cute, side braids are super versatile and look lovely for any occasion — including Valentine's Day.
Hair: Short and Wavy
Another cool do to try— if you have short hair or want to chop it all off.
Simple, Classy Nails
Simple, classy nails are where it's at for men. While women love trying fun nail designs, most guys think it's a tacky if you have nails covered in hearts or palm trees. Try a shade like Passion by OPI.
Hair: Long And Wavy
How cute is her hair? Long and wavy do's are so romantic. Here's a great how-to tutorial for wavy hair. Perfect idea for a date or everyday hair style.
Bright Red Lips
Bright, matte red lips have been back in a big way for awhile, but you may still be kind of afraid of this trend. I understand: It's kind of intimidating. A lot of look, a lot of commitment. A lot of opportunities for the bright lipstick to come off on your teeth — during a date. Well, we've tried quite a few lipstick brands to see how long they last, and have to say we're huge fans of Revlon ColorStay Lip Butter. That baby does not come off. Try it in Candy Apple to achieve that bright red look. It's not as hard to pull off as you think!
Headbands
Headbands. Are. Amazing. They are as easy to use as picking out your favorite color! Now go forth and make yourselves pretty!
Top Knot
Sure, buns are practical, but they don't have to be totally frumpy. You can even take a bun on a Valentine's Day date if you follow one of the many cool tutorials on Pinterest for how to create a cool, glam updo. Like this one, taken from The Berry.
Previous
Next
BEGIN