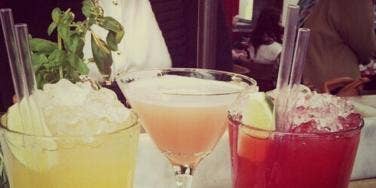 Laissez le bon temps rouler (Let the good times roll), with some tasty cocktails!
Fat Tuesday falls on February 13, 2018 this year. Mardi Gras is traditionally the time to have one big ole party before the 40 days of Lent. If you're planning to celebrate at home, we have some tips on how to party in style, with these delicious cocktail recipes.
Hurricane
According to Babble.com: "The hurricane drink was originally named after the lamp-shaped glasses they came in when served at Pat O'Brien's bar in New Orleans in the 1940s. Made from light and dark rum, passion fruit juice and lime juice, these sweet drinks caught on and became a Mardi Gras mainstay in the French Quarter."
Traditional Hurricane
Ingredients:
2 ounces light rum
2 ounces dark rum
2 ounces passion fruit juice
1 ounce orange juice
half a lime, juiced
1 tablespoon grenadine
Directions: Shake all ingredients together with ice. Strain into lamp-shade-style glasses. Garnish with a maraschino cherry and lemon and lime wedges.
Mardi Gras Milk Punch
Ingredients:
2 cups milk
1/2 cup heavy cream
1/2 cup bourbon or whiskey
6 tablespoons confectioners sugar
Splash of pure vanilla extract
Chocolate syrup, for garnish
Directions:
Place milk, cream, bourbon, sugar, and vanilla in a blender. Add a handful of ice cubes. Blend until frothy and chilled. Serve with a drizzle of chocolate syrup.
Mardi Gras Madness Punch
Ingredients:
ice, in the shape of a ring
1 (40 ounce) bottle grape juice
1 (48 ounce) can unsweetened pineapple juice
1 (2 liter) bottle lemon-lime flavored soda
2 oranges or 2 lemons
2 limes
750 ml vodka (we like Devotion Vodka)
Directions:
Place ice ring in bottom of punch bowl. Add liquids in order given. Float slices of oranges and limes on top.
Red Rooster (or Madras)
Ingredients:
1 cup ice cubes
2 fluid ounces vodka
4 fluid ounces cranberry juice
1/2 fluid ounce orange juice
Directions:
Fill a tall glass with ice. Pour in vodka. Fill glass to 3/4 full with cranberry juice. Top with orange juice. Stir.
Red Snapper
Ingredients:
1/2 oz. Whiskey
1/2 oz. Amaretto
1/2 oz. Cranberry Juice
Directions:
Combine all ingredients in a mixing glass with ice. Strain into a rocks or highball glass.
Previous
Next
BEGIN