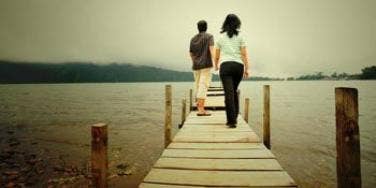 Grab your guy and plan a romantic, "late-summer-night's dream" date.
Summer may be coming to a close soon — way too soon, if you ask us — but that doesn't mean you can't go out, live it up and have fun to make the best out of these last days of warmth and freedom. So why not go on a romantic, "late-summer-night's dream" date? After all, according to our recent Irresistible You survey, 40 percent of you feel your significant other has the most confidence in your relationship when you offer him your undivided attention. So show 'em you care with one of these fun-filled ideas that will let you get to know each other better!
Get busy indoors
Is the late-summer rain outside getting you down? Use it as an excuse to grab your guy and get cozy! Just like indoor recess back in elementary school, you can brighten up your bleary day with some fun—even without the sun. Release your inner child and play a board or card game; it'll spark conversation about your childhoods, allowing you to get to know one another's pasts better. Prepare a few delicious comfort foods like baked macaroni and cheese or decadent chocolate cupcakes for the two of you to share. Then, pick out a movie—whether it's something suspenseful to accent the thunder and lightning in the background or a comedy to counteract them—and cuddle up on the couch together.
The beach, with a twist
It seems like an all-too-obvious option, especially for those living in coastal cities, but perhaps you should try a less-traveled beach location. Rather than opting for an average, popular beach that's bound to be crowded on warm summer days, why not try going to a quiet lake where there will surely be fewer people—which means more privacy for the two of you. Lay back and enjoy your surroundings, or, if you're more adventurous, opt for a rocky beach and get busy climbing (with the proper safety precautions, of course). Doing something exciting together is a great way to get to know one another on a deeper level, especially if you've just started dating. Plus, the two of you are sure to work up a sweat, so you'll also be getting a good workout in at a place 20 times prettier than the gym!
Brunch in bed
Looking for something completely different from the average dinner date? Go for a mid-morning tryst on your next day off. Enjoying a nice meal as a pair is always nice, but having an early one with the blinds open and the sunshine streaming in can be just as romantic—and perhaps even more intimate—as a candlelit evening at a restaurant. Plus, cooking together often results in tons of laughs and an improvement in teamwork. So throw on a couple of aprons, or, if it's an especially frisky morning, perhaps cook in your underwear (depending on your level of adventure). Fry up a few eggs, make a plate of French toast or waffles with powdered sugar and fruit, and squeeze some fresh juice -- if you're really feeling relaxed, mix it with champagne for a tasty batch of mimosas.
Spontaneous picnic & concert
Everyone loves a good surprise, and summer is a great time for them—the weather is often perfect for traveling to new places, experiencing nature together and eating outdoors. Plus, no matter where you live, chances are there are free outdoor concerts. So grab a chilled bottle of champagne, a couple of plastic glasses, some cheese and a blanket, and head to the park for a show you think your date will love. But don't let him know where you're going! He'll be wowed by your spontaneity and consideration for their music taste. Bonus: Make a CD with a mix of songs that were played at the concert as a gift!
Get your hands dirty
Doing things for one another is always a good way to show you care, and performing housework together can turn work into a bonding experience. Have you two been longing to spruce up your garden or, if you live separately, has one of you been craving a living room makeover? Make a list of what you'll need to perform the tasks, pick up materials at the store, and get busy! Not only will you get something done you've been dying to complete, you'll both get to have a great time learning how to be a solid team. Don't forget to reward each other at the end with some relaxing intimate time.
Previous
Next
BEGIN