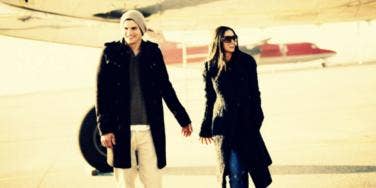 And you think you can't get over your ex! Just look at how bad these breakups were.
Celebrity breakups are a dime a dozen – it seems every week we hear of another couple that have called it quits and have subsequently diminished our belief in long-lasting Hollywood love.
While some splits have been pretty upsetting (Katy Perry and Russell Brand, Heidi Klum and Seal, Taylor Swift and Taylor Lautner... just kidding), others have been downright heartbreaking!
Here are five of the worst breakups in celebrity history. But, before you view this gallery, we'd like you to keep in mind that all of these celeb couples have gone on to have wonderful love lives after their painful divorces. And, in these new, happy, healthy relationships, these celebrities do not have the time, room or energy to be thinking about their ex! Something to think about ...
Photo credit: weheartit.com
Britney Spears & Kevin Federline
Britney Spears grew an enormous fan base when she became a pop superstar in the late 90s and early 00s. Unfortunately, she had a less-than-stellar romantic life, which included marrying one of her dancers, Kevin Federline, just three months after meeting him in 2004. After two years and two children, Federline and Spears' tumultuous marriage ended in 2006, but the aftermath of their split is what made headlines. Their fights over their kids and Brit Brit's money caused her infamous breakdown, which involved a shaved head and a trip to a psychiatric hospital.
Flash forward to now and both are in much better positions,but man, was this an ugly divorce!
Demi Moore & Ashton Kutcher
Shortly after their sixth wedding anniversary, Demi Moore announced her divorce from Ashton Kutcher, who had been outed with having a one-night stand with a younger woman. The news was shocking, especially since we heard of similar cheating rumors about Ashton a year prior. It was painful to see Hollywood's favorite cougar-cub couple not make it, but the recent events that have happened after their split (Moore's hospitalization and entering rehab) have made this storyline even more sad. It's one of Hollywood's breakups that we wish we could rewind and prevent.
Jennifer Aniston & Brad Pitt
Jennifer Aniston and Brad Pitt were Hollywood's favorite couple. They seemed to be that successful, good-looking duo who had their life all planned out. It worked for a while... at least. They spent seven years together as Hollywood's sweethearts until Pitt fell for Angelina Jolie (and vice versa) on the set of Mr. and Mrs. Smith in 2005. Shortly after, Aniston and Pitt announced their divorce, sparking the most talked-about love triangle in Hollywood history.
When Jolie explained in an interview how she fell for Jen's man while they were still married, Jen called the stunt "very uncool." Otherwise, both Aniston and Pitt haven't said much about their divorce, although the whole world still can't stop talking about it.
LeAnn Rimes & Dean Sheremet
LeAnn Rimes broke hearts when she cheated on her husband Dean Sheremet after seven years of marriage. The country singer first met Sheremet when he was her back-up dancer in 2001. They married the following year, only to divorce in 2009 after Rimes conducted an extra-marital affair with Eddie Cibrian, her co-star in Northern Lights, a Lifetime movie (whom she's now married to).
What made matters worse was the fact that Cibrian was also married at the time to Brandi Glanville. We were shocked at Rimes when the rumors proved true! She admitted on Ellen in 2011, "It could have been handled a lot better, you know. But maybe we both didn't have the tools at the time to do it properly."
Nicole Kidman & Tom Cruise
We never thought this pair, who had a red hot romance during Days of Thunder and Eyes Wide Shut, would end up splitting so abruptly. They may have been too hot. Nicole Kidman and Tom Cruise married in 1990 and divorced in 2001 after 11 years of marriage. Kidman never truly knew why Cruise divorced her, but he told reporters at the time, "Nicole knows why."
The two have adopted children Isabella and Connor. Kidman and Cruise have since remarried and seem well-adjusted in their new romances. We're glad everything worked out, but their split will go down in history as one of the most mysterious ... and tense. Nicole Kidman Says She Was "Damaged" After Tom Cruise.
Previous
Next
BEGIN