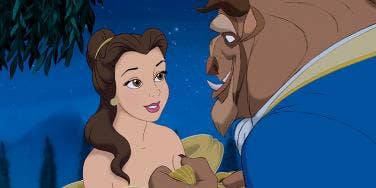 Remember when Belle fell in love with her captor? It's called Stockholm Syndrome, not true love.
Disney movies are the best. They are so fun to watch and they are classics, but that doesn't mean they promote realistic expectations of relationships. In fact, Disney princesses may just perpetuate the worst love stereotypes ever. From Ariel changing her entire personality to meet Prince Eric all the way to Pocahontas and John Smith having literally nothing in common, love lessons are few and far between in these movies.
1. You can change a beast into a prince.
Beauty and The Beast was a classic except for the fact that it promoted the idea that if you tried hard enough you could turn a horrible beast into an honest and loving prince. Yeah, we've tried dating the bad boy and you know what we found? It doesn't work ever. You can't change someone so Disney really lied to us. Plus, bestiality, never okay.
16. One kiss will solve everything.
Yeah, talking out your problems is so overrated because all you really need is a kiss and it will solve everything. #sarcasm
15. Men are superior to women.
In 95% of Disney movies, the men are richer, smarter, braver than the woman. Although Disney seems to be changing its tune on that, it's true and all the princesses except Merida are convinced they need a prince to complete them.
14. A convicted felon is the hottest guy in the kingdom.
Okay, Flynn Rider is animated perfection. Fake characters are not meant to look that damn good. Convicted felons do not look like that. If they did, we would have robbed many a banks by now.
13. It's okay to fall in love with your captor.
It's not. It's called Stockholm Syndrome and it's not okay. Even if they give you a giant library, that is not a reason to stay, Belle. Who taught you stranger danger?
12. Homeless dudes are sexy.
We love Aladdin, but damn Jasmine, you literally gave it up to the first homeless dude that seduced you. He stole and lied about who he was, and you're a princess following around a stranger on the streets.
11. Two opposites will attract.
Are you seriously trying to tell us that John Smith and Pocahontas lasted forever? I bet they broke up pretty quickly when you realize they probably didn't speak the same language. And the fact that she married some other white dude.
10. Giving up who you are will land you a man.
Seriously, Ariel? You're going to give up your voice to hang out with a dude? That's so unhealthy. Beyonce would probably agree with us.
9. You fight because you're in love.
Kristoff and Anna were constantly bickering and arguing with each other. It was pretty annoying and even though, the point of the story wasn't that they were in love (because of the whole sister love thing) clearly they hooked up.
8. Kissing a frog will help you find your prince.
Don't kiss a frog. It's a hygiene thing.
7. You can trust a dude with a magic carpet.
No. Seriously if some guy wants you to get on his magic carpet, you run very very far away, preferably into a police station.
6. You don't have to even talk to each other to be in love.
Seriously though, there is like zero dialogue in some of these movies. In The Little Mermaid they literally don't speak to each other before they get married. We highly recommend you don't head down that path.
5. A beautiful dress and a makeover will make a guy notice you.
Talkin' to you Cinderella. Just sayin' makeup and a ball gown isn't the end-all-be-all to true love. You just wait and see.
4. You can fall in love at first sight.
Ariel saw Prince Eric dancing around on a ship and she was smitten from that point on. Forget the fact that he's a human and for all she knows he could try and murder her, she knew it was love before she even spoke to him. By the way, in case you didn't know, physical attraction is much different than emotional attraction.
3. It's okay to kiss someone without permission, it's romantic!
It's not, it's creepy. If someone is sleeping, especially someone you've never actually met, it's not okay to kiss them, ever. Try that in real life and instead of a romantic gesture, you'll be facing some sexual assault charges.
2. "Someday my prince will come!"
Oh will he? So until then, you're going to sit around and wait while you clean up after seven men? He's not coming, because perfect men don't really exist. Also, you live in the woods, get an apartment in the city if you want some hot dude to find you.
17. Soul mates are for real.
All the princesses believed that there was one perfect person for them. None of them even attempted to date around. They probably would've found someone more compatible than someone they met.
Previous
Next
BEGIN