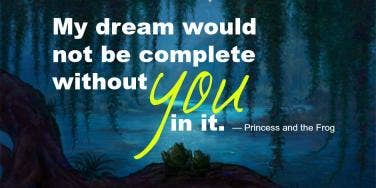 These will get you "right there."
No one does love quite like Disney movies. Disney's show us love as a mass of Technicolor awesomeness, and the movie screenplays are packed with love quotes that are simply out of this world.
Young and old alike have been touched by Disney movies. They've taught us so much about love over the years. And not just huggy-kissy romantic love but also how to love our friends and family.
Sure, we all get a little moved when the princess wins her man's love. But seriously, who doesn't bawl uncontrollably seeing how much Dumbo's mom loves him or when Anna sacrifices herself to save her sister in Frozen? Or when Marlin swims the ocean to find little Nemo. Or when Mr. Banks comes to his freaking senses in Mary Poppins.
We've learned that love conquers can conquer hate, greed, ego and fear and can bring about change to even the longest-held (but questionable) beliefs.
We've learned that challenges and separation — even death! — can't diminish the power of love.
Just take a look at these 25 fabulous quotes about love from some of our favorite Disney movies.
If you're searching for the best quotes and memes to share with the people you love (or just want to feel inspired yourself) ... look no further! From the sweetest love quotes, inspirational sayings, and hilarious relationship truths, we've got you covered.
Frozen
1. "Some people are worth melting for." – Frozen
Lilo and Stitch
2. "Ohana means family." – Lilo and Stitch
Peter Pan
3. "You mean more to me than anything in this whole world!" – Peter Pan
The Princess and the Frog
4. "My dream wouldn't be complete without you in it." - The Princess and the Frog
The Incredibles
5. "You are my greatest adventure." - The Incredibles
Bambi
6. "Love is a song that never ends." - Bambi
Pocahontas
7. "I'd rather die tomorrow than live a hundred years without knowing you." - Pocahontas
Hercules
8. "People do crazy things when they're in love." - Hercules
The Nightmare before Christmas
9. "For it is plain, as anyone can see. We're simply meant to be." -The Nightmare before Christmas
Up
10. "My name is Dug. I have just met you, and I love you." -Up
Snow White and the Seven Dwarfs
24. "One song. My heart keeps singing, of one love, only for you."-Snow White and the Seven Dwarfs
Toy Story
23. "There isn't anything I wouldn't do for you. We stick together and we can see it through. Cause you've got a friend in me."-Toy Story
Beauty and the Beast
22. "You'll be alright. We're together now. Everything's going to be fine. You'll see."-Beauty and the Beast
The Little Mermaid
21. "You're the one, the one I've been looking for."-The Little Mermaid
Lady and the Tramp
20. "Look at the skies, they have stars in their eyes, on this lovely bella notte." -Lady and the Tramp
Tarzan
19. "You'll be in my heart. From this day on, now and forever more."-Tarzan
Sleeping Beauty
18. "You'll love me at once, the way you did once upon a dream."-Sleeping Beauty
Tangled
17. "All at once everything looks different, now that I see you."-Tangled
Aladdin
16. "This is love. You're not gonna find another girl like her in a million years. Believe me, I know. I've looked."-Aladdin
Lion King 2
15. "Love is never wrong and so it never dies" -Lion King 2
Cinderella
14. "So this is love, so this is what makes life divine." -Cinderella
Mulan
13. "Deep in my soul I know that I'm your destiny."-Mulan
Finding Nemo
12. "When I look at you, I can feel it. I look at you and I'm home." -Finding Nemo
Winnie The Pooh
11. "Any day spent with you is my favorite day. So, today is my new my favorite day." -Winnie The Pooh
The Rescuers
25. "To face the future with another who means more than any other is to be loved."-The Rescuers
Previous
Next
BEGIN