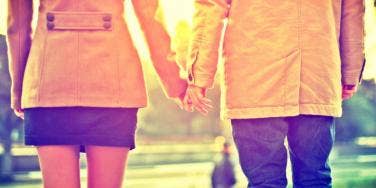 The five love languages.
Fights between couples often arise due to miscommunication and not being able to relate to where your partner is coming from. It can often feel like your significant other just doesn't understand you or appreciate you. What follows is feelings of frustration-- you don't know how exactly to explain or resolve this communication divide--and it can really drive you crazy!
You may feel undesired, unloved, or misunderstood. But the truth is, your partner may be showing you a great amount of affection and you just may not be picking up on the signals. Why? Because he or she is not showing it to you in the specific way you desire or interpret love. In other words, your partners is not speaking your love language.
Dr. Gary Chapman, best-selling author of The Five Love Languages: How to Express Heartfelt Commitment to Your Mate believes determining what your love language is can help you and your partner figure out how to love each other the right way—meaning the specific way in which you both crave affection.
Some people feel love through compliments or thoughtful gifts. Others tend to appreciate courteous acts and quality conversation more than anything else. Some simply crave tender touches to affirm their love.
Read on to figure out which love language is your native tongue.
Acts of Service
This is the love language of unexpected acts of kindness. You know someone cares about you and loves you when he goes out of his way to do generous acts or favors for you.
You know this is your primary language if...
-You think there's nothing sexier than a man who knows how to cook or properly fold the laundry.
-You thought it was so romantic when your boyfriend decided to drive over an hour and a half to be with you for just one day.
-Nothing means more to you than a man who's willing to make sacrifices—like spending a night in with you on the couch rather than out drinking with his friends.
Receiving Gifts
This is the love language that expresses itself through physically receiving an object of some kind. You most easily recognize how much someone cares about you when given through a gift that reflects thoughtfulness and effort.
You know this is your primary language if...
-You can't bring yourself to get rid of those concert ticket stubs your ex bought you because you remember how long he had to wait in line for them.
-You'll never forgive your boyfriend for the time he didn't get a gift for you on Valentine's Day because he didn't want to "move too fast."
-You get offended when you receive a gift that doesn't represent your tastes or interests because you feel it means the person doesn't care about or really understand you.
Quality Time
This is the love language of togetherness. You feel someone loves you when they take time out to give you their undivided attention to talk and listen to what you have to say with genuine interest and concern.
You know this is your primary language if...
-One of your biggest pet peeves is when people text in the middle of a conversation or meal with you.
-You think one of the most important aspects of a relationship is being able to openly share your feelings, passions and desires with your partner.
-You hate that the TV constantly has to be on. You prefer the quiet and would rather pass the time talking over a couple glasses of wine.
Physical Touch
This is the love language of affirming touch. You need physical gestures and closeness in order to feel truly loved and desired.
You know this is your primary language if...
-It makes you feel so wanted when your man grabs your hand or leg under the table when you're eating or at a movie. You love that he can't keep his hands off of you!
-You enjoy sleeping close to your partner. It makes you feel connected and safe.
-You think holding hands is an important aspect of a relationship. It shows you can be physically affectionate in public.
Words Of Affirmation
This is the love language of verbal communication. You desire love that is primarily expressed through kind, appreciative and encouraging words.
This is your primary language if...
-You believe frequently saying "I love you" is one the most important aspects of a relationship.
-You feel rejected and ignored when your boyfriend doesn't compliment how you look after getting ready for a night out. He can never say, "You're beautiful" enough.
-The toasts from your family and friends were the absolute highlight of your wedding; there's nothing better than being reminded how much you're loved!
Previous
Next
BEGIN