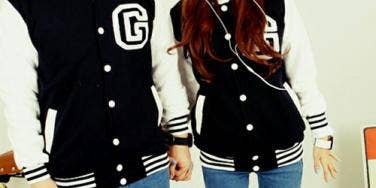 Marriage Material 101: Find out which colleges produces the best husbands.
Students, we know what you're thinking: with some smarts, we can find terrific marriage mates at every college in the country. But a new report suggests that the number of couples who meet in college is lower than ever…so from where are the solid marriage-material types graduating?
Get ready to get schooled on which U.S. colleges and universities turn out the most appealing male partners.
First, we looked at US News & World Report's national universities and liberal arts college rankings and reasoned the better the school's academic rating, the more attractive its male students are. Then, we compared those lists with PayScale.com's list of graduate salaries (focusing on mid-career salaries). Then (because we're such scholars in studies of love), we added softer factors like alumni generosity (who doesn't like a guy who gives back?) and campus beauty (if you're going to his reunion, why not take in the scenery)?
What we don't want in a future husby? We've struck party schools from our list since lushes typically don't make great life partners (sorry, Ohio University—some of us have learned the hard way).
So, in no particular order, check out YourTango's list of the 10 Colleges That Produce The Best Husbands. If you're a co-ed at any of these universities, your could start the semester with a love life A+. (Yeah, you'll want to take notes.)
Amherst College (Amherst, Massachusetts)
If you're leaning towards a literary-minded love, hanging with Amherst alums might be a good idea. Many successful novelists, like David Foster Wallace and Scott Turow got their degrees here. It's ranked number three in the list of liberal arts colleges, with mid-career salaries hovering at $107,000. And this small school breeds big alumni loyalty—almost 60 percent give back some of that salary to their alma-mater each year.
Stanford University (Palo Alto, California)
If you're a California girl, a son of Stanford may be your match made in uni heaven. Ranked number five in national universities, mid-career salaries are a very healthy $112,000. Stanford has won the NACDA Directors' Cup, given to the college with the most athletic success, for the past 17 years. Hoping to marry a smart and sporty partner? Stake out a Stanford man.
Princeton (Princeton, New Jersey)
You might have an image of Princeton-ites as buttoned-up prepsters, but consider this: Dean Cain and David Duchovny both went there. Is your perception changing at all? Right. Now that we've established the fineness factor, take into account that this Ivy ranks number one in earning power of graduates, with a $130,000 mid-career average. Academically it's ranked number two in national universities and breeds some super-generous guys—60 percent of grads give to the school. Invited to the reunion this year? It was voted the 4th most beautiful campus by Princeton Review.
University of Notre Dame (Notre Dame, Indiana)
Future wannabe mommies of the Fighting Irish, listen up: almost a quarter of recently admitted students were legacies. Their parents aren't too shabby, either, with a mid-career salary average of $107,000. The school ranks number 19 in national universities. And for bonus points if you're not into frat guys, good news—there is no Greek life on Notre Dame's campus.
Harvey Mudd (Claremont, California)
Situated in sunny Los Angeles county, Harvey Mudd is another top liberal arts school. In addition to the outdoor lifestyle and SoCal climate, Harvey Mudd made our college hubby cheat sheet thanks to its successful grads earning an average of $121,000 mid-career (most find success in the fields of science, engineering or math). Many exams are of the take-home variety and are overseen by an honor code—so maybe HM breeds more honest, reliable guys? Now there's a theory worth analyzing.
Harvard University (Cambridge, Massachusetts)
This is another school with a rep for being academically rigorous (read: a lot of work, not so much play). But we're not talking about frat parties and weekend hookups here…we're talking about life partners. With a number one ranking in national universities and a mid-career salary of $116,000, these are some solid stats. If you're interested in building a brainy brood, you'll be happy to hear that 30 percent of Harvard legacy applicants are admitted—more than four times the usual admittance rate. Oh, yeah, and that's Matt Damon in the middle of this gaggle of Harvard hotties. Where do we apply?
Duke (Durham, North Carolina)
Some successful, strong guys went here—including journalist Charlie Rose, actor Ken Jeong and president of CBS News Sean McManus. While not everyone that graduated from here helms a company like Microsoft, the average mid-career salary for graduates is $113,000. Also, academically, the school tied 9th with Dartmouth in national university rankings. When it comes to attractive mates, Duke's up.
Carleton College (Northfield, Minnesota)
This small liberal arts colleges is an academic powerhouse—number eight in liberal arts colleges with a solid salary ranking ($98,300, one of the highest in its category). Generosity alert: almost two-thirds of grads share part of this in the form of alumni giving. Fifty-percent of students come from the upper Midwest region, so if you're looking for a smart guy from the area, this is your school.
California Institute of Technology (Pasadena, California)
If the super-modern Southern Cali campus isn't enough to attract you, 62 percent of grads at this science and engineering-focused school are men. This means a recent grad may be new to dating, and what's not adorable about that? The school boasts one of the highest mid-career salaries in the country—$123,000 ($69,600 starting) and is ranked number seven in national universities. CEOs from mega-tech companies companies like Intel and Compaq have graduated from here, so if you're into the nerdy scientist type, this is definitely your place.
Williams College (Williamstown, Massachusetts)
Our first question is, did you go to Williams? According to CollegeProwler.com, it's said that 50 percent of Williams grads marry another alum...doesn't take a quick study to analyze these probabilities. Never even been to Williamstown? Here's what you need to know—it's the number one ranked liberal arts college in the country, and mid-career salaries are $105,000 (which is the 5th highest for liberal arts schools nationally). A whopping 59 percent have contributed to the school's sizable endowment, meaning Williams turns out some very loyal guys.
Previous
Next
BEGIN