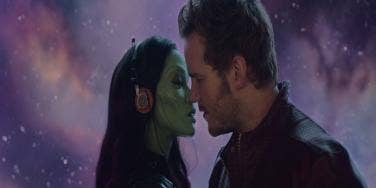 It turns out, superheroes don't make the best lovers. Seriously, these couples are messy.
Being a superhero isn't all roses and X-ray vision. It's amazing how someone can save the world, but have a hard time getting laid or even just go a week without some girl or guy drama. These superheroes are almost as famous for their dysfunctional romantic relationships as they are for their superhuman strength and abilities.
Seriously, though, you'd think having a Spidey sense, magic hammer or being a master tactician would make falling in love a little easier ... but apparently with great power comes great responsibility, as well as being totally clueless about the opposite sex. These are the most dysfunctional superhero relationships ever.
Gamora and Star-Lord (Peter Quill)
The potential disasters in this Guardians Of The Galaxy romance go beyond just shacking up with a colleague: Gamora is the deadliest woman in the galaxy, which her own dad seeks to destroy. That probably gives her a bit of an unfair upper hand in fights, with Star-Lord, doesn't it?
Mary Jane Watson and Spider-Man (Peter Parker)
Mary Jane Watson just keeps getting kidnapped. Here's some advice, Spidey: Rescuing your girlfriend does not count as a date.
Black Cat and Spider-Man
Black Cat is in love with Spider-Man, but not in love with Peter Parker. If a girl wants you to always wear a mask, that's a warning sign.
Thanos and Mistress Death
Thanos is trying to wipe out all life in the universe to impress Death, who is apparently a woman. She doesn't seem to be interested, but he's not taking the hint.
Deadpool and Mistress Death
Deadpool is super violent and crazy, and she's the embodiment of the concept of death. They don't even exist on the same plane of reality. Relationships should never be this complicated.
Colossus and Kitty Pryde of "X-Men"
X-Men heroes Kitty Pryde and Colossus' May-December-bordering-on-statutory-rape relationship could maybe work out, except one of them is usually dead. Yeah, they usually come back, but it still makes dating difficult.
Cyclops and Jean Grey In "X-Men"
X-Men is chock full of dysfunctional relationships, but Jean Grey and Cyclops may be the most famous and romanticized one yet. Isn't it just the worst when your girlfriend dies, and then just comes back from the dead and immediately murders you? Also, while Cyclops seems super devoted to Jean, she keeps flirting with Wolverine behind his back. Basically, Jean Grey is a terrible girlfriend.
Professor X and Magneto of "X-Men"
While X-Men enemies Professor X and Magneto are not technically a couple, these two fight like one. When things are bad, they're bad, but when they're good, they're oh so good.
Gambit and Rogue of "X-Men"
Some guys just can't take no for an answer. There's so many reasons that Rogue and Gambit can't be together. The main one being that if he touches her, he may die.
Reed Richards and Sue Storm Of "Fantastic Four"
With Reed Richards and Sue Storm of Fantastic Four, it's not just the age difference and domestic violence (as seen here) that's a problem. Its that Reed took Sue on a probably illegal space flight and exposed her to space radiation. She lucked out, but she had a 1 in 4 chance of turning into a rock monster.
Superman and Lois Lane
Lois Lane can't choose between Clark Kent and Superman. She also can't tell that they're both the same person, only one is just wearing glasses. Guess she never looks either one in the face.
Jane Foster and Thor
Asgardian Thor and earthling Jane Foster aren't just a case of a long distance relationship. She's a plucky scientist about 30 years old, he's at least 1,000. Also, Odin's never deemed her worthy to be able to lift Mjolnir.
Thor and Sif
Sif and Thor are roughly the same age (again, about 1,000 years old), they have just about everything in common, they live on the same planet in the same realm and his parents adored her. So of course he turns her down in favor of the woman who basically got his mom killed.
Elektra and Daredevil
Love is blind, and so is Daredevil Matt Murdock, who still landed a superhot girlfriend in Elektra Natchios. The problem? Elektra thinks Daredevil killed her dad, so she keeps trying to avenge her pops. Also, Elektra eventually is undead and can't let go of her own rage. Add that to the daddy issues her name implies, and that's not going to be an easy relationship.
Captain America and Sharon Carter
Captain America and Sharon Carter's relationship is super creepy because Cap used to have a thing for Peggy Carter. Dating relatives is always complicated, especially when they're separated by a few generations.
Bruce Wayne and Selina Kyle (Batman and Catwoman)
Goddamnit, Bruce Wayne: If someone breaks into your house and steals your fingerprints, leading to the loss of your controlling interest in your company, don't ask her out. There are always going to be major trust issues.
Batman (Bruce Wayne) and Talia Al-Ghul (Miranda Tate)
Batman just can't get relationships right. Sometimes you start dating someone and find out that they're actually an entirely different person than you thought. Sometimes, they're the daughter of a man you killed and she's only pretending to be interested in you so she can kill you.
Previous
Next
BEGIN