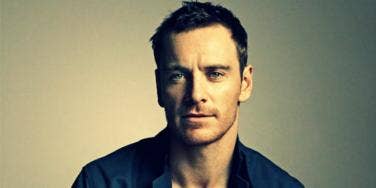 These boys from Ireland sure know how to use that luck of theirs to their advantage!
I've always been attracted to sexy Irish guys. I don't know if it's because we share a heritage or the fact that we can drink green beer for green beer on St. Patrick's Day – all I know is the natural charm Irish lads have really gets me going!
So, I'm not really surprised that some of the most drool-worthy guys in Hollywood also happen to be Irish (and sexy). Whether they were raised on the Emerald Isle like Michael Fassbender or just come from an Irish household like George Clooney, each of these 9 men could charm the pants off of any gal... and they know it. They don't get that sexy "bad boy" rep for nothing!
Photo: weheartit.com
Chris Evans
Heck yes, Captain America is Irish! OK, he's half Italian, too, but we love that Evans is a tough and handsome buff guy straight from Boston. Like Ryan Reynolds, Evans has bulked up for many of his roles and has bagged some pretty beautiful ladies (like Jessica Biel and Gisele Bundchen). But now, the actor is just enjoying life. "I am just enjoying my youth but I want to settle down eventually," he's said.
Colin Farrell
Hunky actor Colin Farrell was born in Dublin, Ireland and has always been a bit of a bad boy when it comes to the ladies. He illegally eloped with Amelia Warner in 2001, had a baby with his next gal, model Kim Bordenave, only to have a sex tape leaked with his next girlfriend, Playboy model Nicole Narain, and finally, had his second child with his latest ex, actress Alicja Bachleda. Phew! The heartbreaker hasn't given an explanation for his scandalous dating life other than: "I'm just a true Irish boy at heart. I'm just myself, I stick by my guns and I treat people the way I think they should be treated, regardless of their status. And I just have a laugh."
George Clooney
Speaking of Irish charm, does anyone have more than the one and only George Clooney? The Silver Fox, who was raised in a strict Irish-Catholic home, can say things like he'll never get married again, and then bag beauties like Elisabetta Canalis and Stacy Keibler ... and then actually get married!
Clooney is just the perfect amount of right and wrong, and he admitted this last year when explaining why he'd never be in politics. "I f--ked too many chicks and did too many drugs, and that's the truth." Sigh... and yet we still love him!
Jonathan Rhys Meyers
Another bad boy born in Dublin, Jonathan Rhys Meyers has the accent and the rep to back his image up. Shortly after being expelled from school at 16, Meyers was discovered by a casting agent while shooting pool in Cork County, Ireland, and thus began his rise to fame. He's been arrested twice at airports for public intoxication and has been to rehab three times since... but who's counting? Reena Hammer, his girlfriend since 2004, must like her bad boy enough to put up with his shenanigans and statements like this: "I've only had one girlfriend who I didn't cheat on. Men are like that. No matter how many times you eat pasta, some night you're going to want steak."
Matthew McConaughey
Romantic comedy hero Matthew McConaughey is one Irishman who's been on People's list of Sexiest Men Alive more times than we can count. And, he's always taking his shirt off, but we're not complaining! He identifies more with being a Texan, but McConaughey likes that the Irish, like him, are "tough sons of bitches... I know that from the time I spent in Dublin."
These days, the father of two is softening up as he prepares to walk down the aisle with Camila Alves. "I have no problem with commitment. In fact, I love having someone in my life," he's said.
Michael Fassbender
Michael Fassbender was born in Germany but raised in Killarney, County Kerry, Ireland by his German father and Irish mother. "It's totally schizophrenic isn't it?" the Shame star has said of his dueling heritage, and he's also just as self-deprecating about his success, which he claims is "all luck and timing." Fortunately for the ladies he dates (hello, Zoe Kravitz), it seems that Irish luck has rubbed off in other areas as well – we all knew what George Clooney was talking about in his Golden Globes acceptance speech. Ah yes, whether bad to the bone, charming or just plain lucky, these Irish lads sure get our hearts beating.
Patrick Dempsey
He'll never lose the title of McDreamy! Grey's Anatomy star Patrick Dempsey has always had that Irish charm that makes the ladies swoon. Even in high school in Lewiston, Maine (and with a middle name like Galen!), girls couldn't resist Dempsey's good looks and thick hair, but that didn't stop him from dropping out and pursuing his dream of acting.
Though he doesn't speak much about his heritage, the star has three children with his wife, Jillian, and all have very Irish names: Tallulah Fyfe and twin sons Darby Galen and Sullivan Patrick. "Being a father makes you look at yourself," Dempsey has said. "You look at your marriage and go, 'How do I improve this? How do I keep growing and create a stable environment for my children?"
Pierce Brosnan
Born in Navan, County Meath, Ireland, Pierce Brosnan has said, "my Irishness is in everything I do. It's the spirit of who I am, as a man, an actor, a father. It's where I come from." The former Bond star has always been a sex symbol, something that he loved exploring with his first wife, Cassandra Harris (who passed away in 1991), and his current wife, Keely Shaye Smith. "I know most actors say otherwise, but I like sex scenes," Brosnan once said. "Bond was supposed to be this great lover, but I always found the love scenes in those movies a little dull. It's lovely to work out the fantasy of it all in celluloid and then go home to my wife."
Ryan Reynolds
True, he's from Canada, but Ryan Reynolds' surname is one of the more prominent ones in Ireland. With a large family full of policemen, Ryan took an alternate route by pursuing acting – lucky for him (and us!), it worked out.
His nice guy image has gotten him far in Hollywood, but he claims he does have a tougher side. "I've definitely done my share of debaucheries--and life threatening booze," the hottie admits.
Previous
Next
BEGIN