Photo: weheartit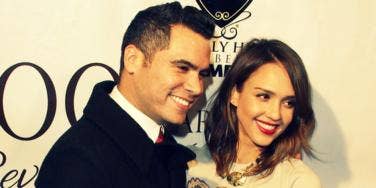 These twosomes are mixing things up in a fantastic way!
According to a study from Pew Research Center, "Intermarriage," or marriages of people who come from different racial and ethnic backgrounds, are becoming increasingly more common in the U.S. In fact, their frequency has more than doubled since 1980, with 15 percent of marriages being interracial. Pretty cool, huh?
This got us to thinking about all of the happy, healthy and successful interracial couples in Hollywood. Sure, it's not new for celebrities from different backgrounds to fall in love, but there have been plenty of new engagements to confirm that intermarriage is definitely flourishing.
Check out the following 10 couples who are sizzling in hotness and keeping things muy caliente with their differing backgrounds.
Photo: David Livingston/Getty Images
1. Halle Berry & Olivier Martinez
Halle Berry met French actor Olivier Martinez back in 2010 on the set of their new film, Dark Tide.
The African-American actress married Martinez in 2013, after an ugly custody battle with her baby daddy Gabriel Aubry. Hopefully, this group can get it all sorted out so they can live happily ever after.
Photo: Dimitrios Kambouris/Getty Images for Michael Kors
2. Jessica Alba & Cash Warren
This busy couple made it a point to stop by New York Fashion Week earlier this week for a little break from parenting their two adorable daughters, Honor and baby Haven.
Alba has recently expressed her desire to introduce her daughters to her Mexican heritage. She told Siempre Mujer Magazine, "I identify with Mexicans. It's in my blood whether or not I speak Spanish."
Warren, on the other hand, is the son of African American actor, Michael Warren, who was on the TV show Hill Street Blues in the 80s.
Photo: Cory Schwartz/Getty Images
3. John Legend & Chrissy Teigen
Singer John Legend finally married his long-time hot American model girlfriend, Chrissy Teigen, on Christmas day 2011 while on vacation in the Maldives.
Teigen — who's of Thai-Norwegian descent and models for Sports Illustrated and Victoria's Secret — invited all of her fellow model friends to the ceremony last year. John Legend and his friends are some very lucky guys!
Photo: Stephen Lovekin/Getty Images
4. Kelly Ripa & Mark Consuelos
Live With Kelly's Kelly Ripa has one heck of a husband in actor Mark Consuelos. The two first met back in 1995 on the set of All My Children and married the following year. Ripa and her Spanish-born hubby now have three beautiful children: Michael, 14, Lola, 10, and Joaquin, 8.
When we interviewed Consuelos last year, he revealed how they keep their marriage strong:
"We have a lot of respect for each other. Our children are our priority and we come from two families where both parents are still together, and we hold that in high regard. So, that's where we start from every day."
Photo: Michael Buckner/Getty Images for Mercedes-Benz Fashion Week
5. Matt Damon & Luciana Barroso
What a perfect pair these two make! Matt Damon is still as head-over-heels in love with his Argentine-born interior designer wife, Luciana, as the day he was when he married her in 2005. The couple met two years prior in Miami — a moment that Damon told us about last year.
"When I look back, meeting my wife was one of the most incredible things that has ever happened to me," he said. "I can't imagine life without her. Then I think about everything else that happened to us, like having four kids, and I feel very blessed."
Photo: Christopher Polk/Getty Images for AFI
6. Matthew Mcconaughey and Camila Alves
Matthew McConaughey and Camila Alves have been married for two years and have three beautiful kids together: Levi, Vida and Livingston. We can tell this couple will go the distance. Reportedly, McConaughey played Brazilian music for eight straight hours in the delivery room to help Alves give birth to Levi!
Photo: Zimbio.com/Bauer Griffin
7. Ryan Gosling and Eva Mendes
Their hotness factor is off the charts. Dreamboat Ryan Gosling and Cuban-American goddess, Eva Mendes, met on the set of The Place Beyond the Pines and have since been spotted on romantic outings to Disneyland, Paris and Thailand. And they recently had a baby!
Although both A-listers often stay mum about their relationship and whether they'll get married. Mendes told Marie Claire, "I'm not gonna budge. I feel uncomfortable talking about it. It's too personal." We personally can't get enough of the paparazzi shots of them!
Previous
Next
BEGIN