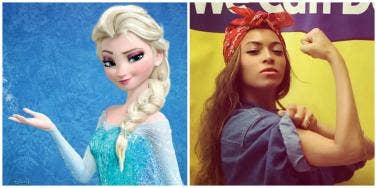 If a live-action "Frozen" ever happens, we have the perfect cast for it. Seriously.
With all the frenzy around Frozen casting on Once Upon A Time, we came up with the ideal cast of players for a potential live-action rendition of Disney's Frozen. They may not necessarily be who you'd expect, but we guarantee you they'd create another blockbuster guaranteed to break the bank, because in this case, art imitates life for these characters.
Queen Bey as Queen Elsa
Introducing Queen Bey of Arendelle! Both Elsa and Beyonce are strong, independent ladies who have complicated relationships with their sisters. And when the Queen sings "Let it Go" in her ice castle, Bey will channel Sasha Fierce for what will surely become the best song of ALL TIME. Kanye will be pleased.
Taylor Swift as Princess Anna
Taylor Swift was born to play Princess Anna. If they're looking for a sweet, naive gal with experience falling instantly and obsessively in love with bad boys only to eventually get her heart broken, there's no one better for the job than TayTay. (C'mon! She sings songs about her love affairs, too! Just like Anna!) The girl thinks she lives in a fairy tale anyway, why not make it happen?
The Duggars as the 'Frozen' Trolls
There are a lot of trolls. There are a lot of Duggars, too. And we're pretty sure the Duggars are trolling the world. We hope. God, we hope.
The motorcycle from Kanye's "Bound 2" video as Sitron the Horse
Sitron is used to carrying huge egos (ehem, Hans). So is that poor motorcycle. The horse is named Sitron, Norwegian for the word lemon. The motorcycle (and the video it starred in) totally turned out to be a lemon, too. Twinsies!
Sir Patrick Stewart as Pabbie
Pabbie is old, wise, and adorable. Sir Patrick Stewart is all of those things, and in a lobster suit.
John Travolta as Oaken
Blue eyes, pensive stares, affable personalities ... and they probably have something else in common, too, but we don't want any lawsuits.
Grumpy Cat as Sven the Reindeer
Sven the Reindeer and Grumpy Cat are both creatures of few (or no) words, but their expressions convey more than enough about their feelings on any given subject.
The Stay Puft Marshmallow Man as Marshmallow
His name is Marshmallow. He's a monster. Do we need to spell this out for you? He just needs to hit the gym to get that scary ice monster bod first.
Vladimir Putin as Prince Hans
Prince Hans is evil under the guise of heroism. Putin is evil under the guise of, well, nothing. They both ride horses, Putin will just need to put on a shirt.
The Expendables as The Royal Guards of Arendelle
If you want guards who get the job done, you hire Jet Li, Sylvester Stallone and Jason Statham.
Kris Jenner as Bulda the Troll Mother
A troll who's also a controlling, meddling mom-figure to Kristoff (note the K name)? Enter the Kardashian matriarch. There's no doubt that Kris can draw from some real life experience with her son and sons-in-law when she sings "He's a Bit of A Fixer Upper."
Seth Rogen and Olaf
Olaf would have to be high to think he could survive in the summer, but you like him anyway.
Mario Gotze, Colin Farrell & Enrique Iglesias as the Dignitaries
Yes, please! Mario Gotze, Colin Farrell and Enrique Iglesias can totally represent Germany, Ireland, and Spain any day in our book.
Rita Ora and Christina Milian as the Duke's Bodyguards
The Duke Of Weselton's guards, Rita Ora, and Christina Milian are all just really desperate for hits. They also latch on to whoever they think will land them some. Good thing Queen Elsa (Queen Bey) still slays them with blizzards and record sales.
Lil Wayne as the Duke of Weselton
They're both obsessed with Cash Money, and they're both short. This is pretty straightforward.
Brad Pitt and Angelina Jolie as King Agdar and Queen Idun
King and Queen of Arendelle, meet the King and Queen of Hollywood.
Leighton Meester and Adam Brody as Kai and Gerda
Kai and Gerda are sweet, loyal and lovable, but they can't carry the whole movie. It sounds a lot like real-life couple Leighton Meester and Adam Brody's careers: Usually supporting players, but you root for them the whole time.
Ryan Gosling as Kristoff
Hey girl, Kristoff is pretty perfect and sees women as equals, even when those women (read: Anna) are dippy and illogical. So does Ryan Gosling.
Cliff - Tim Gunn
He'll dress you up and he may annoy you slightly during the process, but you have to love him. Because he makes you look so good!
The Paparazzi as the Wolves
They chase stars, they travel in packs, they intimidate celebrities, they have the potential to cause physical harm — the paparazzi are the wolves. Scary, dangerous, bloodthirsty and wild.
Oprah's audience as the citizens of Arendelle
They're ultimately well-meaning, good intentioned people, but sometimes they can be misinformed and therefore subject to harm. Sort of like when Dr. Oz tells you that the latest supplement in magical, when in fact he's never used it and he may be getting paid to tell you that even if it causes massive bouts of diarrhea or something.
Previous
Next
BEGIN