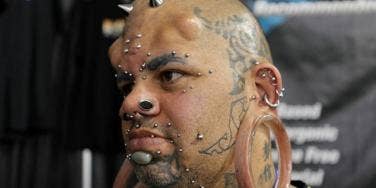 We are not messing around here. Be careful when bringing these fellas home.
You love your parents, right? Well then, heed our words and do not bring these ten guys home to meet the family. That evening will just result in a trip to the ER as your father clutches his arm and your mother talks about seeing a white light. Please, raise your standards and bring home a quality guy.
1. The dude with flowers in his beard.
This über-hipster has taken "unique" to a whole new level. He's mostly harmless, thought he might get on everyone's nerves after a while. Plus, he totally attracts bees.
2. And speaking of bees…
There's this guy. No other words are necessary.
3. Any dude older than your dad
This screams of daddy-issues. Either that, or your parents will think you're a gold digger. Do you really want them thinking either of those things about you? We didn't think so.
4. A Republican (if that's not your thing).
And vice versa. Someone who leans heavily to one side won't necessarily be so welcome in the home of people who support the other side.
5. An actively incarcerated inmate.
None of them are as hot as this guy, and your parents will not think he's sexy.
6. A porn star
No. Hell no. Forget your parents; we won't let you date this guy.
7. An adrenalin junkie.
Your parents won't be impressed by a guy who wants to take you BASE-jumping or really to do any other dangerous activity. They are your parents; they don't want to outlive you.
8. A man-whore
Along with the porn star, this is a fella you want to avoid. Your folks will totally be able to tell what kind of man he is (particularly if he hits on your mom), and they want better for you.
9. A drug dealer.
What are you thinking, kids? This guy will make your loving parents lie awake at night wondering how he is going to hurt their baby/get you arrested. Please, spare them the stress.
10. And finally, there's Tattoo Guy.
But he's not just any old Tattoo Guy. He's a modified, horn-possessing, ear-gauging, spike-implanting mother guaranteed to send your folks into cardiac arrest.
Previous
Next
BEGIN