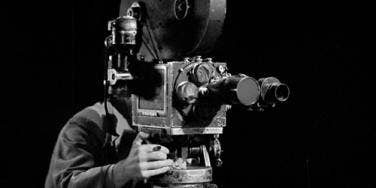 Let's curl up and reminisce about romantic quotes from some of cinema's finest.
Even if you haven't seen these movies, you've heard these lines. They're the words that define how we think about losing love ("We'll always have Paris."), being defiant in the face of haters ("Nobody puts Baby in a corner."), or just what love actually is ("Love means never having to say you're sorry.")
From Casablanca to Dirty Dancing, here are the top 10 quotes about love from the most romantic movies of all time. Let us know what quotes we left off the list in the comments below.
If you're searching for the best quotes and memes to share with the people you love (or just want to feel inspired yourself) ... look no further! From the sweetest love quotes, inspirational sayings, and hilarious relationship truths, we've got you covered.
We'll Always Have Paris
When Humphrey Bogart uttered this line to Ingrid Bergman in Casablanca, he meant it quite literally. Now, as one of the American Film Institute's top 100 movie quotes, the line has taken on a metaphorical meaning. People use it to refer to the memories of a good time, now long past. The line has been used in songs, books, stories and even as the title of an episode of "Star Trek: The Next Generation."
Of All The Gin Joints
Without a doubt, Casablanca is one of the most romantic movies of all time. The costumes, the drama, the romance. Swoon. Casablanca is also one of the most quoted and misquoted movies of all time. For example, did you know that no one in the film actually says "Play it again, Sam." The line is "Play it, Sam. Play 'As Time Goes By.'"
Here's Looking At You, Kid
According to Aljean Harmetz, author of Round Up the Usual Suspects: The Making of Casablanca — Bogart, Bergman, and World War II the now iconic line "Here's looking at you, kid." Didn't even appear in the script for the movie Casablanca. The line was apparently added after Bogart said it to Bergman during a poker game. The line is now one of the most quoted movie lines of all time and can make any lady swoon, when paired with the right hat and debonair attitude, of course.
Nobody Puts Baby In A Corner
Thanks to Dirty Dancing most teenage girls now believe true love is having a man lift you in the air while you dance to "(I've Had) The Time of My Life." Sadly, that dream hasn't happened for many (if any) of us Jennifer Gray wannabes. But that doesn't stop us from shouting, "Nobody puts Baby in a corner!" Every time we want to do our own kind of dancin'. Am I right?
Frankly My Dear
According to the American Film Institute's list of 100 movie quotes, Gone With the Wind is the second-most quoted movie of all time, tied with The Wizard of Oz. Despite Scarlett and Rhett being a rascally pair, who can't help but feeling heart broken when Rhett walks out on Scarlett at the end of the movie. But, after all, tomorrow is another day.
You Had Me
Combining sports and romance, Jerry Maguire is the perfect couples movie. And who can forget the heart-wrenching, tear-jerking moment, when after a lengthy romantic plea by Jerry Maguire (played by Tom Cruise), Dorothy Boyd (played by Renee Zellweger) says, "You had me at 'hello.'" The other quoted lines from that movie are "You complete me." And "Show me the money!" But I hope the money quote doesn't occur often in your relationship.
Love Means
Even if you haven't seen Love Story you probably know this line. The movie tells the tale of Oliver Barrett IV Harvard student who falls in love with Jennifer Cavallari working-class girl. The two star-crossed lovers end up marrying, despite the wishes of Barrett's father, who disowns him. As the couple struggles to establish their new life, Barrett discovers Jennifer is ill and will soon die. After Jenny dies, Barrett's father apologizes to his son, who says, "Love means never having to say you're sorry."
Mrs. Robinson
Dustin Hoffman plays the directionless graduate Benjamin Braddock, who is seduced by Mrs. Robinson, played by Anne Bancroft. Braddock then falls in love with Robinson's daughter, Elaine. Robinson tries to force her daughter to marry Carl Smith (played by Brian Avery). However, Braddock ends up interrupting Elaine's wedding and the two run away together.
Oh, Jerry
Now, Voyager is the story of Charlotte Vale (Betty Davis) a spinster, who comes into her own after a visit to a sanatorium. On a cruise, Vale falls in love with Jeremiah Duvaux Durrance (Paul Henreid), a married man. The two part, but meet again. The unrequited lovers never unite romantically, instead they stay platonic. At the end of the movie, when Duvaux asks Vale if she's happy, she utters this iconic line.
Listen To Me, Mister
While this Academy Award-winning movie is ostensibly about the relationship between a father and a daughter. The relationship between Ethel and Norman Thayer (played by Katherine Hepburn and Henry Fonda) is truly a lovely portrait of what it means to grow old with the person you love.
Previous
Next
BEGIN