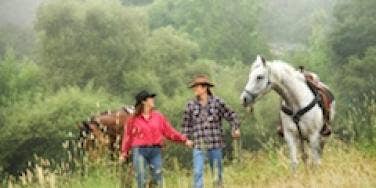 Grab a mint julep and celebrate the Kentucky Derby with one of these romantic horse films.
They say a girl's first love is her horse. Maybe that's true—if she's lucky enough to have one.
In American culture, horses have long symbolized adventure and a return to nature in an increasingly industrialized world. It's no wonder that My Little Pony and its ilk are still popular today. The Kentucky Derby wouldn't have the same appeal if there were cars instead of horses racing around Churchill Downs. In literature and film, horses serve their riders in multiple ways. The beautiful animals are strong and often wild, but in need of love and care. With enough dedication, they can be tamed into loyal companions.
Could classic movies about people and their horses teach us a thing or two about love? We think the following movies, compiled in honor of Saturday's Kentucky Derby, just might. So grab a mint julep and settle in to watch one of these romantic horse flicks.

April Love
An Academy Award nominee for Best Song, April Love was the fourth most popular movie in 1957. A Chicago teen (Pat Boone) is sent to live with his aunt and uncle in Kentucky after getting arrested for joy riding. Once in the country, the city boy takes an interest in horse racing and a pretty local girl (Shirley Jones).
Brokeback Mountain
This 2005 Oscar-nominated film about the love affair between two closeted gay men is the tenth highest-grossing romance film of all time. Ennis (Heath Ledger) is a ranch hand and Jack (Jake Gyllenhaal) a rodeo cowboy. The two men meet and fall in love one summer at Wyoming's Brokeback Mountain in 1963. Unable to openly have a relationship, they marry and have families while harboring their secret. Brokeback Mountain is a poignant romance set in a time when gay couples faced extreme discrimination.
The Harvey Girls
In this 1946 musical, Susan (Judy Garland) travels by train to wed a suitor she's never met, a man who placed a "lonely hearts" ad. Alas, she finds out the man writing her beautiful love letters was Ned (John Hodiak), a prankster who owns the local saloon. Susan can't just go home. She takes a job with a band of waitresses called The Harvey Girls, and Ned starts thinking maybe he meant what he wrote in those love letters after all.
The Horse Whisperer
This 1998 drama starts with a tragic accident. Two teen girls ride their horses up an icy slope, slip and are dragged into the road. The surviving girl, Grace (Scarlett Johansson), and her horse struggle to recover. Grace's mother, Annie (Kristin Scott Thomas), hires Tom, a handsome horse whisperer (Robert Redford), to help. The two adults develop feelings for each other. The only problem: Annie's married and Tom's own heart needs to heal.
All The Pretty Horses
This 2000 adaptation of the Cormac McCarthy novel of the same title is more than a romance. It's also an action-packed western the guys will love. John (Matt Damon) and Lacey (Henry Thomas) are two cowboys who ride from Texas to Mexico seeking work. On the way, they befriend an orphaned boy and John falls in starcrossed love with Alejandra, an aristocrat's daughter (Penelope Cruz). John and his friend find a way to stay in Mexico near Alejandra, but they soon find themselves fighting for their lives.
Something to Talk About
In this 1995 film, Grace (Julia Roberts) seems to have it all—a job managing the stables at her family's horse farm, a beautiful daughter and a strong marriage. When she discover her husband (Dennis Quaid) has been cheating, Grace struggles with the very public betrayal. Should she leave her husband or try to rebuild the relationship? Either way, the small town she's from sure has—you guessed it—something to talk about.
Wild Hearts Can't Be Broken
Bring some tissues when you watch this 1991 cult classic. Wild Hearts Can't Be Broken is based on the memoir of Sonora Webster, a young woman who performed with diving horses at fairs during the Great Depression. Sonora (Gabrielle Anwar) is an orphan taken in by the performers at a county fair. Al, the son of the fair's organizer (Michael Schoeffling), trains her to become a Diving Girl. Meanwhile, the two fall in love. Sonora makes it to the big time—a performance in Atlantic City—but something goes horribly awry.

Previous
Next
BEGIN