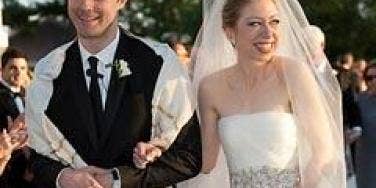 What Americans lack in royalty, we make up for in socialite, celebrity and power couples.
With Prince William and Kate Middleton's wedding bonanza mere weeks away, we can't help but feel a bit envious—not of Kate Middleton or what is sure to be her amazing gown—but of the glitz and glam that a royal wedding signifies. (Of course, Hillary Clinton and Michelle Obama are better role models than your average European princess, but do they ever get to wear tiaras or swan across a ballroom floor with John Travolta? We think not.) Still, what Americans lack in royalty, we make up for in socialite and celebrity couples—like the ones below, whose rich and famous lives may just be the closest thing to stateside royalty that we've got.
Chelsea Clinton & Marc Mevinsky
The only child of former President Bill Clinton and Secretary of State Hillary Clinton, Chelsea was just 12 years old when she moved into the White House. It's not surprising that many Americans have taken an interest in her life, after having seen her grow from a gawky teenager to a accomplished 31-year-old woman and scholar with a doctoral degree. Although her parents struggled to shield her from the spotlight growing up, Chelsea's 2010 wedding to investment banker Marc Mevinsky was a media circus, and her 8-month-old marriage has already been the subject of tabloid divorce rumors.
Beyonce & Jay-Z
Although most royals are born into a life of luxury, Beyonce and her husband of three years, Jay-Z, came from humble beginnings. Jay-Z grew up in a housing project in a poor section of Brooklyn, while Beyonce's father, then a medical equipment salesman, quit his job to concentrate on managing his young daughter's budding musical talents, slicing the family's income in half. By the time they started dating in 2002, the R&B songstress and the rapper-turned-music mogul had become multi-millionaires and power players in the entertainment industry. The couple earned the title of Most Powerful Couple by Time Magazine in 2006 and has topped the Forbes list of the richest couples in Hollywood several times since their 2008 wedding.
Ivanka Trump & Jared Kushner
She may not be an actual princess, but Ivanka Trump certainly behaves likes one. While other socialites like Paris Hilton and Kim Kardashian chose to skip college in favor of starring in sex tapes, Ivanka Trump went to business school, making her about as smart as a former model/heiress can be in the U.S. After designing her own jewelry collection (and famously rubbing elbows with Prince Harry at a polo match,) Ivanka married fellow Ivy Leaguer Jared Kushner in 2009 and sought out Vera Wang to design a wedding gown that was inspired by the dress that Grace Kelly wore when she married Prince Rainier. The couple is expecting their first child this summer, reportedly a baby girl.
Anne Wojcicki & Sergey Brin
If Silicon Valley were to throw a prom and name their king and queen, the wearers of the technology crown might just be Google co-founder Sergey Brin and his wife Anne Wojcicki, who, in addition to raising their 3-year-old son, also reigns over her own dot-com company, 23andMe.com. The couple, both 37, met in the nineties when Anne's sister, now a Google VP, sublet her garage to Sergey and his partner to use as office space for their start-up. Needless to say, it worked out well for everybody involved. Sergey and Anne, who are now worth approximately $20 billion, married in 2007. They both wore swimsuits to their oceanside wedding.
Lauren Davis & Andres Santo Domingo
With her cool, blonde hair and slim frame, Lauren Davis looks eerily similar to the late Carolyn Bessette and has a private life that may be equally glamorous. The 34-year-old Connecticut native and Vogue contributing editor married Colombian heir Andres Santo Domingo in 2007. Though it's not a palace, they have made do with a $18.5 million townhome in New York City ever since. Thanks to her socialite status and wealth, Lauren was recently named the most powerful person in NYC by New York Magazine and is currently expecting her first child.
Reese Witherspoon & Jim Toth
Hollywood golden girl and Oscar winner Reese Witherspoon finally got her happy ending when she married boyfriend (and major Hollywood agent) Jim Toth in a lavish, country-style wedding at her California ranch last month. Among the guests were such A- listers as Kate Hudson, Renee Zellweger, Matthew McConaughey, Scarlett Johansson (with rumored boyfriend Sean Penn), Gwyneth Paltrow and Chris Martin, Sacha Baron Cohen and Isla Fisher, and Tobey Maguire. After kissing a couple of frogs (namely, ex-husband Ryan Philippe and ex-boyfriend Jake Gyllenhaal), we're happy that the 35-year-old actress finally nabbed her prince!
Lauren Bush & David Lauren
Lauren Bush, the niece of the 43rd president and the granddaughter of the 41st, said her I do's to longtime boyfriend and Ralph Lauren heir, David Lauren, in the second most anticipated wedding of 2011 (right after Prince William and Kate's, of course.) They may not call Buckingham Place home, but as members of two very dynastic American families, the couple's pedigree makes them fashion royalty.
Previous
Next
BEGIN