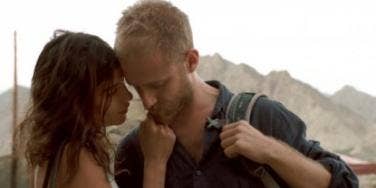 Young love, long-distance relationships and reckless abandon: who said indie films aren't relatable?
With the Sundance Film Festival wrapping recently, we've had to move to greener pastures (also known as Awards Show Season) to get our fix of celebrity sightings and outstanding cinema. Certain films from the festival are lingering in our minds as some of the most beautiful love stories we've encountered in years, and lucky for you, all of these films have been purchased by larger film studios and will be released in theaters in 2011. So grab your love and suggest a movie date when these films hit the silver screen. We promise your guy will be psyched that you're not taking him to your everyday rom-com/chick flick. These movies are unabashedly real when it comes to relationships, and we guarantee that you and your man will walk out of the theater relating all too well to what you just saw, or at least give you both a new perspective on your relationship.
More Juicy Content From YourTango:
Home
Is there anything sexier than a spontaneous getaway with two lovers who have known each other for five seconds? Will, an American engineer working in Armenia, meets native Gadarine at a hotel, and the two form an immediate connection that propels them onto the road and into a lot of unconscious decision-making. While we're all struggling to be less reckless and more mindful in love, it's refreshing to see lovers throw caution to the wind…even if it is strictly fiction.
Homework
George (Freddie Highmore) finds his life hopelessly pointless—that is, until he meets his match in Sally (Emma Roberts). Suddenly inspired to move forward with his life, George must figure out how to pull it together in time to graduate high school despite never having completed a single assignment. The characters are young, but in our book, a story of how the loves of our lives inspire us to be better will never get old.
Life In A Day
Directors asked people from all over the world to send in video footage of their lives on a single day, July 24, 2010. Little did they know that the majority of those people would spend that day falling further in love. An army wife spends an hour getting gorgeous for a Skype date with her husband, breaking down after they lose their connection. A man tells the camera that he lives his life unafraid of anything now that his wife has conquered his only fear: cancer. A boy films his love on the subway, darting away every time she looks up (it was lovelier than it was creepy, we promise). 4200 hours of footage whittled down into 90 minutes of love, loss and longing—we can only imagine how many love stories lie undiscovered on the editing room floor.
Like Crazy
Jacob, an American, and Anna, a Brit, fall head over heels for each other in college in LA. When their love goes long-distance, time, trust and (many, many) miles become the enemy. The struggles and intimate details of their strained relationship will hit home to anyone in a long-distance situation…and make the rest of us thankful that we're not.
The Details
Suburban life with the wife and kids—livin' the dream, right? Not the case for Jeff (Tobey Maguire), who is stuck in a rut in his marriage with Nealy (Elizabeth Banks), and dealing with raccoons who tear up his perfect backyard lawn. This film shows how the tiniest choice or event can spontaneously unfold into a series of poor decisions and life-changing moments. Jeff is the perfect example of a man who loves his wife but doesn't know how to actually love her, making us take (yet another) hard look at men's strange behavior.
Previous
Next
BEGIN