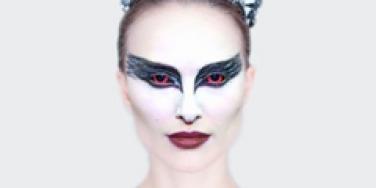 What do the stars say about the 2011 Oscar nominations for Best Actress?
Every actress dreams of bagging that gorgeous golden Oscar statuette, but if the Best Actress Curse is to be believed, scoring an Academy Award means tanking a relationship (think Sandra Bullock, Kate Winslet and Reese Witherspoon, whose relationships fell apart within a year of their Best Actress wins). If the curse is real, can we then predict who will win the 2011 Best Actress by looking at whose love life is least stable? We hope not! But with this in mind, we asked the astrologers at Moonit.com to tell us what could happen to the five A-list ladies nominated for Best Actress, based on what the stars (those in the sky, that is) have to say about their relationships.
Annette Bening and Warren Beatty
5/29/58 & 3/30/37

Strongest Astrological Influence: Mars Sextile Jupiter
According to their astrological profiles, Best Actress nominee Annette Bening (The Kids Are All Right) and husband Warren Beatty share a boundless lust for life and, when they combine energies, it's luckier than having a four-leaf clover, a horseshoe and a rabbit's foot in one place. On the flip side, all this high-flying excitement can lead to risky moves, so at least one of them should keep bail money on hand.
The verdict?
With this kind of perma-party, the stars predict that they'll never be bored—but they might be exhausted. Sorry Annette... You may not get your Oscar, but you'll still have your main man.
Read more: Can Annette And Warren Defy The Oscar Curse?
Natalie Portman and Benjamin Millepied
6/9/81 & 6/10/77

Strongest Astrological Influence: North Node Square Venus
Natalie Portman (nominated for Black Swan) and dancer/choreographer Benjamin Millepied make for a true meeting of the minds, and when it comes to learning and teaching, they can spur each other on to greatness. Unfortunately, the pathways aren't quite as open when it comes to things like "feelings" and emotions."
The verdict?
Their romantic assessment reveals that "these two communicate about as well as Jean-Claude Van Damme and Arianna Huffington." The connection is there, but they'll need to learn to communicate if they want to keep things afloat beyond the shot-gun wedding phase. Do we smell a winner?
Read more: Behind Natalie and Ben's Black Swan Romance
Jennifer Lawrence and Graham Patrick Martin
8/15/90 & 11/14/91

Strongest Astrological Influence: North Node Trine Venus
There's good reason these two former TV show co-stars have been a rumored couple: it's like there's a force larger than life drawing Graham to Jennifer (Best Actress nominee for Winter's Bone), telling him to be around her as much as possible if he wants to grow and achieve his true potential!
The verdict?
If these two choose to share the spotlight together, they've got the potential to become the "it" couple, entertaining the people who matter and being effortlessly "on" all the time. Oscar Prediction: Better luck next time.
Michelle Williams and Ryan Gosling
9/9/80 & 11/12/80

Strongest Astrological Influence: Venus Sextile Jupiter
Though they're just friends, Blue Valentine co-stars Michelle Williams (nominated for her role in the film) and costar Ryan Gosling are perfectly matched. They can't help but exude inspiring, positive energy when they're together—as a couple their synergy would produce tons of love, luck and adorable PDAs.
The verdict?
If Michelle and Ryan ever get together, they'll have much better chances than their on-screen relationship in Blue Valentine. As to a Best Actress win? She might want to look elsewhere.
Read more: Is Michelle Williams Ryan Gosling's Blue Valentine?
Nicole Kidman and Keith Urban
6/20/67 & 10/26/67

Strongest Astrological Influence: Pluto Conjunction Venus.
When nominee Nicole Kidman (Rabbit Hole) and Keith first met, Nicole realized this country crooner could really rule her heart. Just a few years later, and they're married with children. But—as sunny as their relationship may seem—it's got its demanding side: this relationship is bound to be emotionally and physically demanding.
The verdict?
Nicole and Keith are devoted, but they'll need to work through emotional and physical issues to keep this marriage going strong. With Pluto in conjunction with Venus, an Oscar win for Nicole might just put a strain on their relationship... Consider her in the running.
Read more: Nicole & Keith Can Really Keep A Secret
Previous
Next
BEGIN