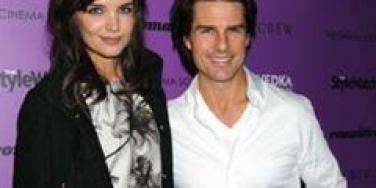 Body language expert Lillian Glass gives us the clues to analyze the stars this awards show season.
It's officially the glitziest, glammiest, starriest time of the year—Awards Show Season. As A-listers make the rounds to accept Golden Globes and Oscars galore, we get to see them dressed to the nines in Versace, Alexander Wang, Valentino, etc. But that's just the beginning. Whether celebs walk the red carpet arm-in-arm with their rumored loves/co-stars, live-in partners or husband/wife, Hollywood's finest always offer up a different kind of eye candy for the keen observer: intriguing body language. Here, body language expert Dr. Lillian Glass weighs in on the top cues to look for when you tune in to the upcoming red carpet spectaculars.
More Juicy Content From YourTango:
Brad Pitt and Angelina Jolie
Lingering eye contact – Call it "stargazing," if you will. Although many of our favorite red carpet walkers are actors by trade, they're not faking it when they stare into one another's eyes, a la Angie and Brad. "If you see celebrity couples looking right into each other's eyes, it's a sign of tenderness and affection," explains Dr. Lillian Glass, renowned Body Language expert. "You can feel the love between them." Research proves it: A study in the journal Archives of Sexual Behavior proved that the longer a man's gaze rested on a woman, the more interested he is. Men made eye contact with the women they found attractive for an average of 8.2 seconds.
Katie Holmes and Tom Cruise
Looking forward – Even if paparazzi to the right shout "Katie!" while photographers on the left scream, "Tom, Tom!", the dynamic pair is often seen focusing their attention in the same direction when they walk the red carpet. This can be a major cue that the pair is on the same wavelength, Dr. Glass shares. What's more, it shows there's mutual adoration between the two. "As for Tom and Kate, he absolutely adores her and is taken with her," observes Dr. Glass.
Jessica Biel and Justin Timberlake
Shoulder-to-shoulder – Hunched shoulders can indicate insecurity issues in a relationship, but relaxed shoulders that touch can signal a strong bond. Jessica Biel and Justin Timberlake have been seen on the red carpet striking a happy pose that's shoulder-to-shoulder. "It means they're literally shouldering it together, presenting a united front to the paparazzi," says Dr. Glass.
Jessica Simpson and Eric Johnson
Leaning towers of "just not into them" – A couple standing side by side may appear relaxed and casual initially, but there's often more than meets the eye. They may also be leaning away from one another, or looking in opposite directions. Although they just announced their engagement, Jessica Simpson and Eric Johnson have been guilty of this pose. "Leaning away signals that the relationship is very contrived," explains Dr. Glass. "It illustrates that they're not connected at all, and one or both may be hiding from the other." Ouch! Could this mean we may not hear wedding bells for these two after all?
Gwen Stefani and Gavin Rossdale
Foot pointing – Feet pointed toward a mate is a clear indication of love, says Dr. Glass. Rock royals Gwen Stefani and Gavin Rossdale have often been spotted in this pose. "His foot points toward her and his whole body engulfs her," explains Dr. Glass. "This shows they're a solid unit, and that he really supports her." So nice to see the lovebirds, who first started dating in the '90s, are still in perfect harmony.
joel-madden-nicole-richie.jpg
The hand-on-behind – Men often wrap their arms around a woman's waist on the red carpet, but it pays to look closer: is his hand on her waist...or her butt? Happy newlyweds Nicole Richie and Joel Madden are hand-on-behind pros. "His hand on her butt shows a lot of sexual heat between them," says Dr. Glass.
Ellen Degeneres and Portia de Rossi
"Headed" in the right direction - A body connection doesn't have to be below the belt to indicate intimacy, as Ellen and Portia have demonstrated by posing with their heads and/or cheeks touching. This illustrates that "they're thinking alike, and they're very in-touch," says Dr. Glass.
sarah-jessica-parker-matthew-broderick.jpg
A waist-clutch that's too tight – When the man has his arm wrapped around a woman's waist, it could seem, at first glance, as if the duo is a lovey-dovey pair. But look closer. "If the man's fingers are digging into her, that's not a good sign at all," says Dr. Glass. "It indicates stiffness and tension between them." Illustrated example: Sarah Jessica Parker and her longtime love, Matthew Broderick, have been spied striking this on-edge pose. (Maybe the result of raising an 8 year old and toddler twins in NYC?)
robert-pattinson-kristen-stewart.jpg
Hips touching – Red carpets can get crowded and paparazzi often encourage rumored-or-confirmed celebrity couples to pose together, but there's no need for hips to touch—unless there's a lot of chemistry between the pair. "Hips touching indicates sexual attraction," says Dr. Glass. Case in point: Twilight co-stars-turned-lovers, who recently filmed the most sexified chapter in the saga.
Previous
Next
BEGIN