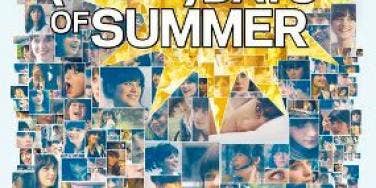 Cozy up with your partner and enjoy twelve of the most romantic feature films ever.
Looking for a little low-key romance this Valentine's Day? Get that loving feeling with a few of our favorite passion-infused flicks. Celebrate the spirit of this holiday by grabbing some chocolate, pouring a little wine and cozying up with your significant other to enjoy the funny, sad, messy and wonderful sides of movie love.
Love Actually
Love Actually – It's a movie about a ton of love stories. Some of them might be kind of messy, complicated, twisty and confusing, but that's love. Actually. So for Valentine's Day, it's totally appropriate.
Eternal Sunshine of The Spotless Mind
Eternal Sunshine of the Spotless Mind – It's a love story with depth, and considered one of the best films of the last decade by many. In this sci-fi flick, a man is heartbroken when he finds out his girlfriend has undergone a procedure to erase their time together. To ease his pain, he decides to do the same, but when his memories are playing backward as they're getting wiped away, he finds he's still desperately in love, which is a pretty rough time for that realization. We know it sounds weird, but this movie is fantastic. Heart-breakingly, ulifting-ly fantastic. Oh, just see the movie.
The Notebook
The Notebook – Every girl on the planet wishes she had a passionate relationship like Noah and Allie's. Oh, and for some weird reason that we totally love, this movie seems to be many men's guilty pleasure. Go figure.
An Affair to Remember
An Affair to Remember – Remember that scene in Sleepless in Seattle (another great Valentine's Date movie option that narrowly missed on our list!) where Rita Wilson's character bawls her eyes out over the epically beautiful ending of this movie? We may not have gotten quite that emotional, but we could totally feel where she was coming from. If you're not saying, "Aw!" and feeling all teary-eyed with utter happiness on V-day, then we have a problem.
Pride & Prejudice
Pride & Prejudice – It's the ultimate chick flick. And even if guys can't exactly appreciate it like girls can, they need to understand the fascination with a rich, handsome, misunderstood hottie like Mr. Darcy, and the fact that he's willing to toss family expectations out the window to be with Elizabeth. That's totally swoon-worthy, and women love it. So men just have to suck it up.
Titanic
Titanic – It's pretty much the quintessential star-crossed lover tale of the modern era. Guys can get on board (no pun intended) with the shipwreck sequences, and girls can fall in love with the romance and a baby-faced Leo DiCaprio.
When Harry Met Sally
When Harry Met Sally – The movie is hilarious, the dialogue is witty, and the chemistry between Meg Ryan and Billy Crystal is spot on. Plus that last scene where Harry goes to the New Year's Eve party to declare his love for Sally always melts our hearts into puddles of lovey goo. We should probably think it's cliché and sappy, but we don't.
(500) Days of Summer
500 Days of Summer – Forget traditional love stories. We know from the beginning this flick doesn't have one, and it's still pretty perfect. This movie is quirky, cute and the two leads have chemistry that charms the socks off all of us. Watch Joseph Gordon-Levitt fall hopelessly in love with Zooey Deschanel—who's just not that into him. It's an uncharacteristic, witty Valentine's Day movie night non-love story. What could be better?
Casablanca
Casablanca – If classics are your thing, this is the all-time ode to romanticism, as Humphrey Bogart's character has to choose between his love for a woman and doing what's right. It's one of those movies that everyone should see once, so cozy up with your sweetheart and watch the film in which the signature lines like, "Here's looking at you, kid" and "I think this is the beginning of a beautiful friendship" were born.
P.S. I Love You
P.S. I Love You – Get out your hanky and get ready to appreciate your partner while watching this major tearjerker! It's emotional, but come on—we've got to give Gerard Butler's Jerry some props for the epic finally gift he gave Hil's Holly; letters to help her move on after his death. That has to be, like, the most thoughtful final present/journey/set of memories EVER.
The Princess Bride
The Princess Bride – It's vintage Robin Wright in this flick. The Princess Bride boasts her first major movie role ever playing the Princess Buttercup to Cary Elwes' farm boy Westley. Not only is this laugh-out-loud funny (could any film with things like Rodents of Unusual Size, Andre the Giant and a six-fingered man not be seriously quirky?), but is also pretty heavy on the light-hearted romance. Guys will even chuckle at this one. It's just downright fun.
You've Got Mail
You've Got Mail – Well, what's a chick-flick holiday without a Meg Ryan and Tom Hanks movie? It just wouldn't be complete, that's for sure. We love a little romantic angst, and this movie has plenty. A book tycoon unknowingly falls for a woman online whose enchanting little shop just went out of business—because of him. Watch Meg and Tom try to resist each other's charms as real-life archenemies and online soul mates.
Previous
Next
BEGIN