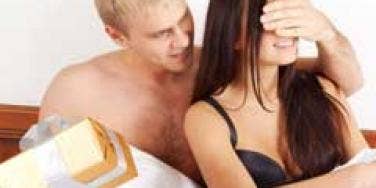 Sexy adult gifts you'll both love year-round.
Looking to liven up your New Year's Eve? Why not ring in the new year with a sexy gift for that special someone? We've pulled together our favorite sex toys, books and more, so you can make sure 2011 is the sexiest year ever!
Trojan Vibrating Triphoria
Sexual pleasure from a name we trust for sexual safety? Yes, please! The Trojan Vibrating Triphoria is a 3-in-1 vibrator offering interchangeable tips and multiple speeds and pulsing options. Our reviewer had this to say after testing it out: "I learned how versatile the vibrator is... and experienced how quickly and efficiently I can use it to get myself off, $39.99 seems a mind-blowing steal." Enough said.
Click to buy the Trojan Vibrating Triphoria, $39.99
Sponsored by Trojan.
Moregasm
Moregasm: Babeland's Guide To Mind-Blowing Sex is the best female-friendly sex ed resource since Our Bodies, Ourselves. Much more than just a step-by-step guide to doing it, Moregasm offers info on everything you could possibly want or need to know about sex, including sex toy primers, lube suggestions, an exploration of erogenous zones, anatomy lessons, and more. And it presents it in a way that's fun, friendly, graphic, and easily accessible. If it were up to us, every young person would learn about the birds and the bees from this book.
Leather Corset
Lace is nice, don't get us wrong, but there's nothing like leather lingerie to take sex from sweet to red hot. Something about skin on skin... on skin. You follow? We like this lace-up leather corset, which says sexy biker babe while still retaining a touch of class.
Eros Pjur Lube
Lube. If you do one thing to improve your sex life this year, buy some lube. It's a simple, effective way to improve your sex life. It doesn't cost a lot, and if you're looking for a sexy gift but are a little too shy to get an actual sex toy, lube is a great alternative. Study: Lubricant Users Have Better Sex
Water-based lubes are the most common kind, and are perfect for most situations. Astroglide makes a nice one.
Silicone-based lubes last for hours and you don't need to use much product. Just don't use them with silicone sex toys, which will erode upon contact. Eros makes our favorite silicone lube.
If you want to get into anal sex, choose a thicker lube like Maximus.
Click to buy Astroglide, $8.52 for 5 oz
Click to buy Eros, $16.99 for 100 ml
Click to buy Maximus, $14.41 for 250 ml
Best Women's Erotica
Reading as foreplay? You bet. The 2011 edition of Best Women's Erotica collection features 19 short stories that will get your blood pumping to all the right spots. They're all written by women, and there's something for everyone: a threesome, sex between strangers, hot married sex and more.
Trojan Vibrating Pulse
Another in Trojan's line of pleasure products, the new Trojan Vibrating Pulse is a classic vibrator featuring a high-quality silicone tip, three speeds and three different pulse options. The Pulse's classy coloring and discrete shape make it a perfect companion for travel or keeping within easy reach at home.
Click to buy the Trojan Vibrating Pulse, $24.99
Sponsored by Trojan.
Bondage Tape
This inexpensive bondage tape can be used as a blindfold, to tie someone's hands together, to tape their mouth shut… or any other naughty uses you can think up. Made of PVC material, the tape sticks to itself but not to your skin, so there are no bandaid-ripping "ouch!" moments.
Little Flirt
Want to branch out from standard sex? A butt plug is a great way to start. Anal play is fun, taboo and requires trust and patience that translate to even more intimacy. If you're a beginner, choose a small plug like the Little Flirt.
If you're experienced and want something larger, consider the Ringo.
Click to buy Little Flirt, $26.99
Click to buy Ringom, $38.99
Edible body pens
Edible body pens provide all the fun of sexy confections like whipped cream or chocolate syrup but without the mess. These chocolate- and strawberry-flavored pens from Sensual Play Things feel great going on and coming off. They taste great, too.
OhMiBod Better Than Chocolate Edition
The OhMiBod Better Than Chocolate Edition is a wireless, waterproof vibrator that hooks up to your mp3 player and pulses to the beat of whatever song you choose. You can also hook it up to your computer and it'll vibrate to the sound of your lover's voice via video chat—perfect for long-distance relationships. The vibe works without music or voice as well.
Click to buy the Ohmibod Better Than Chocolate Edition, $98.99
Previous
Next
BEGIN