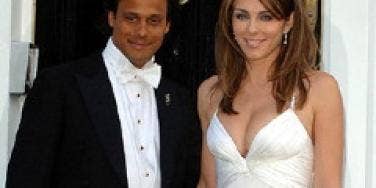 These celebrities waited to wed, and it was worth it.
Meet some of Hollywood's elite who have their own special first after-40 marriage.
Related content from More.com:
More Juicy Content From YourTango:
Elizabeth Hurley & Arun Nayar
Hurley and Nayar made it official in 2007 with a week-long wedding celebration that spanned two continents. The 41-year-old bride said "I do" to her 42-year-old beau in front of 300 guests at an Anglican ceremony at Sudeley Castle in Winchcombe, England. The pair then whisked off to Jodhpur, India, where they had a traditional Hindu ceremony.
Marcia Cross & Tom Mahoney
Cross, 44, married stockbroker Tom Mahoney, 48, in 2006 after meeting in a local Los Angeles flower shop. Cross has said of their random encounter, "If we had met in our 20s, we would have been ships in the night. He had his journey to go on, and I had mine. He possesses stability and I've got an impulsive side. It's a wonderful combination."
Julianna Margulies & Keith Lieberthal
A seven-months pregnant Margulies, 41, quietly tied the knot with lawyer Lieberthal in late 2007. The ER alum, whose father walked her down the aisle, now plays a scorned spouse on CBS's The Good Wife.
Salma Hayek & François-Henri Pinault
After their daughter was born and their engagement called off, Hayek, 42, switched gears again and wed her longtime boyfriend, French magnate Pinault, 46, in a civil ceremony at City Hall in Paris' chic 6th arrondissement. The couple followed up their weekend nuptials with a star-studded bash at Venice's Teatro La Fenice opera house.
Ellen DeGeneres & Portia de Rossi
Much to the surprise of girlfriend de Rossi, 35, DeGeneres, 50, announced her wedding plans live on her talk show. "This is very exciting," DeGeneres began, "California Supreme Court overturned a ban on gay marriage. I would like to say right now, for the first time, I am getting married." The funny woman added, "I'll tell you who the lucky guy is soon." She later lamented the passing of Proposition 8, which repealed the court's ruling, by saying, "One day, when everyone is treated with full equality, we'll look back and realize how wrong this was."
Mariska Hargitay & Peter Hermann
Hargitay, 40, donned fresh gardenias in her hair and a blush-colored Carolina Herrera gown for her summertime nuptials to actor Hermann, 37, whom she met on the set of Law & Order: SVU. "It's my first marriage," she has said. "I wanted to find out where I was going before I found out who was going with me."
Sandra Bullock & Jesse James
Low-key Bullock, 41, wed her tattooed beau at a ceremony in the hills of California. The actress, who wanted her celebration to have a "vintage western barbecue feel" rode in with James, 36, on a giant red monster truck. Guests sat on haystacks during the ceremony and danced to bluegrass music.
Susie Essman & Jimmy Harder
For a long time, Essman didn't think she was marriage material. Now the Curb Your Enthusiasm star, 53, is wife to real-estate broker Harder, 51, and stepmother to his four children. "I never had any interest in getting married or having kids. I was always having fun and enjoying my career, and now here I am, in the middle of this big, wonderful family, and my whole life has turned around."
Can't get enough Hollywood romance? Check out our Couples We Love slideshow here.
Previous
Next
BEGIN