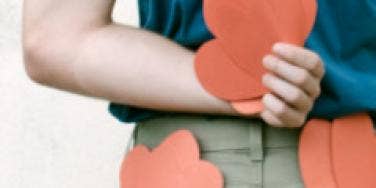 If the Valentine's Day gifts he bought you could talk, they'd have A LOT to say.
Valentine's Day is just over the horizon, and dudes will probably start thinking of gifts right around the 11th. While most ladies will try to read into what a fella means by a gift, I'm far more interested in what the presents have to say about the gift-giving guy. Here's what some very standard gifts reveal about your special guy. Read: Valentine's Day Traditions Around The World

Whitman's Sampler
"I was just minding my own business at Duane Reade when this sort of bored-looking guy grabbed me and tossed me in a basket with some Cool Ranch Doritos and slim-fit condoms. People like me because I'm safe and provide a little variety."
So Ugly It's Cute Dog
"A handsome guy picked me up from a pet shop in the mall yesterday. I was $75 and am cute as a button. He kept on telling me that he won't be the one cleaning up after me. Evidently, his wife wants a baby and he thinks I'll give him a year or two of cover. Best of luck, chief."
Classy Necklace
"I am made from the finest white gold and precious gems, acquired, of course, from dubious sources. I was purchased by a gentleman who used two credit cards to take me home. This guy may have good intentions, or he may just be using me as either an apology or a precursor to anal sex."
One Dozen American Beauties
"I was raised to be the most beautiful of all roses. I was delivered on February 12th to a nice young woman's office. I was either purchased well in advance or at quite a premium. Either way, some lady should feel worth it. Very little thought has gone into me and I'll be hideous in 10 days."
Inexpensive Pinot Grigio
"I was minding my own beeswax at the Kroger and this guy walked in at midnight and grabbed me by the neck. He was very impatient and marched me right to the check-out lane. Evidently, I make women lose their minds and their panties. Also, I taste about the same at any price point."
Glass And Surface Cleaner
"I can degrease, disinfect, de-mold and whiten. I thank my lucky stars every day that that nice, careless man took me away from that dingy gas station. Ironic, the good work I could have done there.
The woman that the nice man introduced me to thinks that we (the man and I) are either the biggest idiots alive or are sending a message about her housekeeping. Note: both are accurate."
PlayStation 3 Computer Entertainment System
"I, the PlayStation 3 Computer Entertainment System, represent the cutting edge of media technology. I can play DVDs and Blu-rays. I can surf the world wide web. I can even access your Netflix account. And, I play theoccasionalvideogame. I came from a factory in Japan to the home of a man who loves films and theoccasionalvideogame. His wife is going to be blown away by the power of media and theoccasionalvideogame. I am a family entertainment system and in no way a selfish gift even if I play theoccasionalvideogame."
Previous
Next
BEGIN