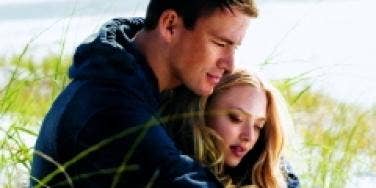 As YourTango partners up with Dear John to bring you even more content about love, we thought it worth showering the film's two stars—Channing Tatum and Amanda Seyfried as, respectively, an enlisted soldier and a college student in love—with some much-deserved adulation. We've admired Amanda since her turn as Karen in 2004's Mean Girls. She's since shone on the small screen as the oldest child of the polygamous Henrickson family in HBO's Big Love, and she fought (and kissed) a zombified Megan Fox in Jennifer's Body. In addition to her acting resume, Seyfried's always struck us as one of Hollywood's more intelligent and grounded starlets.
And Channing, well, it should be obvious why we like this easy-on-the-eyes 29-year-old. If his all-American good looks weren't enough, he'd still have our hearts after his roles in 2008's Stop Loss, 2006's A Guide To Recognizing Your Saints, and as other lauded films.
Click through our sponsored gallery to read the eight more reasons we love Channing Tatum and Amanda Seyfried.
He grew up as a regular guy.
Channing's got a whole canvas of experiences behind him. While growing up in Cullman, Alabama, he played football, soccer, track and basketball, and practiced kung fu. Unsurprisingly, he was voted most athletic in high school. After leaving college, he worked in construction, as a mortgage broker, as a cologne salesman and at a puppy and kitten nursery (aw). He started modeling for Armani and Abercrombie & Fitch (among many, many other notable brands) after a talent scout spotted him on the streets of Miami.
She makes a conscious effort to "be a normal person."
While her memorable roles in Mean Girls and Mamma Mia! have bolstered her visibility, Amanda knows how to keep a low profile and maintain her privacy. In an interview with the Philadelphia Daily News, she said that it's "not hard avoiding the tabloids," revealing that she eludes controversy by having friends, working constantly and keeping her distance from tabloid fixtures.
He got his first break as a dancer in the music video for Ricky M
Everyone's got to start somewhere, but we can't be the only ones who find Channing's first role, which earned him $400, kind of epic. Who doesn't love a man that can dance?
She has successfully avoided being typecast.
In an interview last fall, Amanda said that she turned down many of the "dumb blond" roles that were offered to her after her turn as an airhead in Mean Girls. Judging by her varied movie roles she's since embodied, it seems she's been making wise choices. Aside from her role as the romantic Sophie in Mamma Mia!, she's played the aforementioned polygamist's daughter in Big Love, a dead girl in Veronica Mars and a nerd in Jennifer's Body. After her turn as Savannah in Dear John, you'll see her as a seductress in Chloe, alongside Julianne Moore and Liam Neeson, and in the romantic comedy Letters to Juliet with Vanessa Redgrave and Gael Garcia Bernal.
He's a family man and a country boy at heart.
While promoting G.I. Joe, he told Interview magazine that his favorite place in the world is still his parents' ranch in Alabama. "I don't have one bad memory from there. I can sit underneath the shed with all my family, my cousins, and everything, and just be like, 'Yeah, this is what it's about—just sitting with people you love and hanging out.'" Isn't it refreshing to find a celebrity who's not caught up in the glitz and glamour of Hollywood? His wife, Jenna Dewan (pictured left), is a lucky woman.
She says no to drugs.
In an interview with the Philadelphia Daily News, Amanda talked about attending a party and having to walk away from people snorting cocaine. "I swear to God, I'm really scared of that stuff. That might be my winning ticket—that I'm horrified of drugs." Smart choice, lady.
He's humble and down-to-earth.
He's one of the least entitled young stars out there. In at least two interviews, Channing has joking called himself a "punk," while acknowledging that the right people, times and places helped him become "crazy lucky."
She's a Renaissance woman.
The girl can pose, sing, dance and act. Between the ages of 11 and 17, Amanda signed with Pennsylvania and New York modeling agencies, which put her in print ads for children's clothing brands (including one for Limited Too with Gossip Girl's Leighton Meester). In between modeling gigs, she took vocal lessons with Broadway and classical opera coaches before landing her first roles on stage and in various daytime television drama series.
Come February, we'll definitely be heading to the theater to check out these two in Dear John. Will you?
Previous
Next
BEGIN