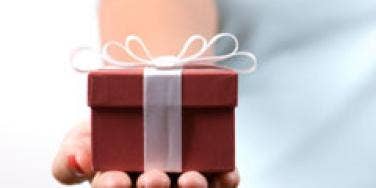 The perfect gift for your new guy. What to give when you've been...
When the sparks have just begun to fly, it's a careful balancing act to keep them alive long enough to become a full-blown fire. And what happens if (gasp) the holidays fall right among those crucial relationship baby steps? Figuring out what to get the guy you've just started dating (or the crush you want to date) is, for most of us, like walking on a tightrope. One wrong move—a gift that says too much or too little—and the whole flame could easily go out. But never fear: we've come up with some easy options for every stage in a fledgling relationship.
What to buy when you've been...

"Just friends" but you want to be more
The key to cultivating that friendly flirtation into something more is keeping it simple. These funny Bad Behavior Postcards are inexpensive and lighthearted. They're low pressure and can be taken as a token of friendship, but they also open the door for the two of you to have some laughs. ($9.95, randomhouse.com)
Flirting at work, but haven't broached dating
Butter up your office crush with a gift that's casual and fun. A desktop dart set can sit on his desk or fold up and hide in his drawer on serious days. The best part about it is the excuse it provides you for passing by his desk more often. For dart practice, of course. ($7.50, unicahome.com)
On one (great!) date
Getting a gift after the first date is tricky—you don't know him that well, and there's a fine line between being playful but thoughtful and coming on too strong; affordable and funny wins the race. While ordinarily we'd steer you away from any gifts resembling a calendar, this Information Downturn Daily Calendar is too good to pass up. It's 365 days of the best fake news The Onion has to offer, and if all goes well he'll be sharing juicy tidbits like "Man Pinned Under Blankets for Three Days" and "Local Girlfriend Always Wants To Do Stuff" with you the whole year through. ($12.99, popdeluxe.com)
On a few dates, but not yet exclusive
Now's a good time to show you've been paying attention. We suggest picking up a DVD or book that plays to the interests he's spoken to on the past few dates. Comedian Jim Gaffigan's new DVD King Baby is packed with hilarious stand-up, from the wonders of bacon to the perils of camping. It's politically neutral (so it won't offend the person you're still getting to know) and laugh-out-loud funny, and there's a good chance it could lead to an invitation to watch it with him. ($24.99, comedycentral.com)
Dating casually for several months without exclusivity
This is one of the trickiest times of all. You've been dating long enough to know each other well, but if you haven't The Talk, so you want to be careful about keeping your gift on the neutral end of the spectrum—now is not the time to be stocking his underwear drawer, or picking up a $200 watch. A Swiss Army Knife is practical, functional, and doesn't break the bank, but more importantly, all those gadgets make it a lot of fun, too. ($22, swissarmy.com)
Exclusive for three months or less
The fellas we polled seemed to agree that a good gift from someone he's just started dating is a nice wallet. It's something you can get without spending too much, but it shows that you're invested in his personal life. You're helping him stay organized and be fashionable without being too invasive. ($49.95, kennethcole.com)
Exclusive for three months to a year
Since, apart from him, you're the one who'll smell it most often, giving him a "signature scent" is a great way of showing him you're invested in the relationship. Diesel's Only the Brave is, plain and simple, a great man smell. It's crisp, fresh, and ultra-sexy, and it comes in a cool fist-shaped bottle that he won't be embarrassed to keep on the dresser. What's more, you'll want to jump him after just one spritz—and that's all the gift he needs. ($65, sephora.com)
In an online relationship for several months, but haven't met in
You've been textually intimate, but not having met in person, there is much you don't know. You don't want to go with clothing, but you don't want to be impersonal either. This sleek wine opener is unique, durable, and easy to use. Hopefully it'll get you invited over to share a bottle one day soon. ($35, momastore.org)
Dating long-distance for three months or less
Since you've only been dating a short while, and it seems even shorter when you don't see each other as often, keep your gift casual with a hint of flirtation. We like Bed in a Tree, a new, gorgeous book that features 27 unique hotels around the world, with everything from underwater rooms to rooms under the stars. The fun here lies in the ideas it opens up, a suggestion of what you might look forward to. The book includes a voucher for 10 percent off at selected hotels, and since you have to travel to see each other anyway, who's to say you couldn't meet in Germany to sleep in a wine barrel? ($18, amazon.com)
Previous
Next
BEGIN