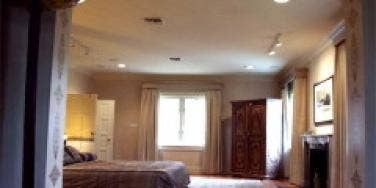 Tips on designing a sacred, intimate and beautiful master bedroom.
The master bedroom is the intimate heart of your household. When designing the master bedroom do so with awareness; the bedroom you share with your partner is a container for your love.
Creating a master bedroom with your significant other is a perfect opportunity to honor each other. The process of designing your bedroom with consciousness will deepen your lives and nurture your bodies, minds and spirits on many dimensions.
The following slides show some elements to consider when designing your master bedroom.
To learn more, read "How To Make Your Master Bedroom A Sacred Space."
Check out more at RosenKing.com.
Opposite the doorway
Beds should be opposite the doorway if possible, and not directly in front of a window.
Placing a bed between windows helps create boundaries within a space by drawing attention to the windows and the focal point of a space—in a bedroom the focal point is usually the bed.
A solid wall behind the headboard will provide grounding and support, whereas a window allows energy to leak out, and energy from outside to invade the sanctity of the room and the relationship. The headboard also represents stability and support.
Soft, white luxurious fabrics invite rest, and window treatments that complement the décor create beauty and give the room a sense of warmth, privacy and cohesion.
Lorell Frysh.
This photo illustrates another way to place a bed between windows
The throw pillows and decorative top sheet in this room create beauty and provide a sense a luxury.
Lorel Frysh.
Greens and purples
Greens and purples are wonderful colors for a master bedroom. Green represents the heart chakra and purple honors the spiritual dimensions of your union.
Armijo Design Group.
Earthy color
The earthy colors of this chocolate bedroom ground a relationship and make the space cozy and warm, yet sophisticated.
Armijo Design Group.
Release the tensions
When you step into your master bedroom it's important to release the tensions and impressions of the outside world. You can honor that shift by emphasizing the doorway with molding, paint colors, or by creating a defined archway that echoes the style of a culture that you love such.
Designed by Lorell Frysh
Lovely retreat
Your bedroom can be a lovely retreat. This room is arty and full of personality and light.
It also has an armoire where you can hide a TV. According to feng shui principles, TVs pull the chaos of the world into your intimate space and destroy peace of mind. If you must have one, hide it in a console.
Company KD.
Previous
Next
BEGIN