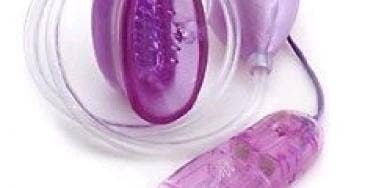 People do the craziest things in the name of an orgasm. No judgements here!
It was only natural since it's National Masturbation Month that we'd celebrate by browsing the Internet looking for a little upgrade. It's been a while, but we were sort of curious to see what the kids are rubbing themselves with these days.
Not too much has changed. There's plenty run-of-the-mill pocket rockets and generic dildos to be had, but if you dig a bit below the surface you'll find some curious gadgets that err on the side of painful, campy, awkward or a kooky mixture of the three.
Now, we're big girls here. Sex toys can hardly scare us. Rather, let's just say we're a bit jilted and weary with a renewed interest in guarding our private areas.
PASSIONATE PURPLE PUSSY PUMP
This handy, dandy contraption is called the Passionate Purple Pussy Pump. It's meant to swell our lady flower and make orgasms more intense. Sure. (muffled laughter) Likely story. I guess it serves us women right, though. While we thought it rather humorous to make endless (endless!) jokes about penile pumps/extenders, the concept isn't nearly as humorous when we're encouraged to vacuum our nether regions with something that sort of reminds us of a plunger.
S&M RUBBER DUCKIE VIBRATORS
No explanation needed. After all, who doesn't want to climax with an gagged, leather-clad rubber duckie in between their legs?
STEAMPUNK MASSAGER
Legend has it the inventor of this stainless steel vibrator was an unemployed engineer brainstorming ideas about the next best orgasm-giver. Naturally she thought: Why not power a vibrator with steam? Unfortunately, when she used steam the one-pound "massager" got so hot she had to handle with wielding gloves. No fear, the same concept works with compressed air. Screw batteries.
OHMiBOD VIBRATOR
Sure, everyone masturbates to music but how many of you can say you're rinky dink vibrator was actually in-sync with the music? This i-pod invention (Steve Jobs we never knew...) puts it most succinctly on their site by saying "music, mind and body truly "come" together." Hm. Just make sure to create a playlist full of dance music or your battery may run out before you finish.
EROSCILlATOR TOP 2 DELUXE VIBRATOR
This Swiss-designed vibrator doesn't vibrate. It swivels. Like a power tool! Yikes! The website uses an "electric toothbrush" as an example, but we're not so sure...
ORAL SEX SNORKEL
Despite the photo, this toy is actually for him. Why come up for air when you can strap on the Oral Sex Snorkel and stay down for hours? Designed to allow him to "breathe normally while giving her a long lustful licking she'll never forget," this is one sex toy that will actually work against you. We're guessing two protruding plastic horns and a nose full of apparatus is not what you want to see looking up at you.
Previous
Next
BEGIN