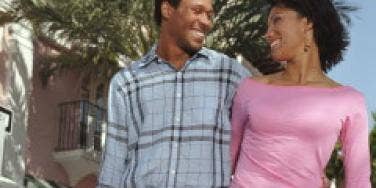 Are there differences between the male and female brains? Yes! Science explains.
Men and women evolved different brains over millions of years, because of necessity. Men chased down food for their families and provided protection. Women cared for the young and old, and provided a nurturing environment. Because of these different roles, the sexes evolved to process information differently, think in radically different ways, expect different things, and have different perceptions, beliefs and behaviors. In the last forty years, as the gender roles in our society have been blurred, both males and females have become more and more confused as to what is normal behavior. We expect our partners to be able to read our minds and think as we think. Unfortunately, we are just not wired that way.
Provided by AOL Health
Reprinted from the book Sex on the Brain by Daniel G. Amen, M.D. Copyright © 2007 by Daniel G. Amen, M.D. Published by Harmony Books, a division of Random House, Inc.
More from AOL Health:
Channel Changers
With the lower overall brain function, a man needs more stimulation. As he flips through channels, he is often looking for something new, something different, something exciting. A woman is often content watching a single program, with a relational story line where characters show emotions. She likes to predict what will happen next and needs the continuity to stay interested. The remote control allows a man to surf the wild looking for fair game.
Do Men Lie More Than Women?
Given the lower brain function, especially in the front part of the brain, men tend to be more impulsive than women. They tend to have more affairs and tend to say things without fully thinking it through and often find themselves in hot water. Women also lie, but they get caught less. One reason, as I mentioned earlier, is that women have better access to the right hemisphere and thus read social cues better than men. They notice the small things, like looking away or down or clearing your throat, that are typical in people who are not telling the truth. Since men tend to be in denial a lot of the time, they do not see when their partner is lying
Gossipmongers
Men do gossip, just not as much as women. Men have language exclusively on the left side of the brain, while women have language on both sides. Women have more to say because more areas of the brain are dedicated to language. Men are also more interested in sports than in emotional relationships. Sport talk shows are very popular sources of gossip for men.
Sir, Are You Lost?
Men do not know that they are lost, even if they have passed the same gas station four times. Men have less access to the right hemisphere, which shows the big picture. The right hemisphere allows people to know when a problem exists. Since men have less access, they are often in the dark when something is wrong. It happens in many other situations besides driving, such as admitting that there is trouble in a relationship (75 percent of the time women are the ones who file for divorce or leave a relationship). Men are also singularly focused on finding their way. Admitting that you are lost is admitting failure, something men are very poor at doing.
Why Don't Men Need Foreplay Like Women Do?
Men are always ready for excitement. With the lower activity levels in our brain, and higher testosterone levels, it takes little to get us going. Like Harrison Ford's character Quinn Harris said in the movie Six Days, Seven Nights, "All women have to do is show up." We are always idling, waiting to be taken for a ride. Women, on the other hand, have so much going on in their brains that they need to be soothed, courted and encouraged to be in the mood. They need a method to calm down their brains.
Sex On The Brain
The part of the brain responsive to sex hormones is two and a half times larger in men than women. Men are programmed to be more responsive to sexual feelings. Plus, with the lower activity in the brain, men are looking for excitement and stimulation. What is more stimulating to think about than sex?
Primitive Vs. Emotional Thinking
In another study, when asked to think of nothing, men's brains were more active in the more primitive physical activity centers of the brain (cerebellum), women's brains [sic] were more active in the emotional and bonding centers of the brain (limbic system). Left to themselves, men will think about sex, their golf swing or their jump shot; women will think about their spouse, children or parents. One common complaint from women is that they do not feel connected to their partners. Men would do well to initiate conversations about children and parents.
Thinking
Neuropsychologist Ruben Gur of the University of Pennsylvania used brain scans to show that when a man's brain is in a resting state, at least 70 percent of his brain is shut down. On the other hand, when women were resting, at least 90 percent of their brain was active, confirming that women are always thinking, thinking, thinking. The man wants the remote control and a little peace and quiet; she wants to talk.
Different From Conception
From early in infancy, girl brains are more interested in smiling, communicating, people and security; while boy brains are more interested in objects, actions and competition. With higher levels of testosterone, the male areas of the brain are more developed, including the parietal lobes responsible for sense of direction, visualizing objects in three dimensions (good for catching a football), and mathematics. Without testosterone, the language centers of the brain are more developed, which is why girls like to talk and boys like to play catch. In addition, testosterone beefs up the area of the brain that is interested in sex. This ares is twice as large in men as women. He really is more interested in sex.
Measuring Testosterone Levels
According to University of Liverpool researcher John Manning, the size of your ring fingers and genitals are directly related to how much testosterone you received in the womb; the higher the testosterone level, the longer they are. In fact, looking at the length of ring fingers in comparison to index fingers will give an idea of the size of a man's penis. If the ring fingers are longer, it means that there were healthy testosterone levels; if they are the same size or smaller, it means that there were lowered levels.
Why Can't He Remember Our Anniversary?
Men are men. As such they are thinking about providing for their families, competing with other men and sex. Opposed to women, who are thinking, thinking, thinking about the relationship, men are busy doing. This does not mean they love less, they just love like men. This often causes them to forget important dates, even though they try hard not to.
Previous
Next
BEGIN