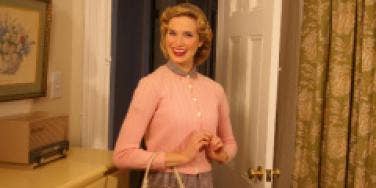 A look at the cast, crew and props that made Timmy Gordon and Alice Johnson come to life.
YourTango's "Facebook Manners And You" video has become a viral hit, so we thought we'd tell you a little bit about how we made it. Styled as a 1950s-era instructional film, the video chronicles the rule-breaking breakup of Timmy Gordon and Alice Johnson on Facebook, the "electric friendship generator." These two completely ignore Facebook etiquette, and boy do they ever pay the price!
Watch Facebook Manners And You
Since we released the video, curious fans have wondered where we found old footage and how we digitally inserted Alice into the scene. In fact, we created it from scratch, thanks to our newfangled "computing machines." We studied old instructional films on the internet and fashioned the look through a combination of blurring, a superimposed scratched film reel, desaturation, contrast, and a "jitter" to make the video look like it was going through a projector.
Check out these behind-the-scenes photos to learn more about the process.
Want more from Alice and Timmy? Find them on Facebook, naturally.
Alice hair and make-up
"Alice" getting her hair and make-up done. Alice is played by Alice Callahan (yes, Alice is her real first name).
The stylist who created the lovely '50s do is Morning Star Stivitts.
We shot the video in the living room of our video producer, Kevin Osgood.
The Computing Machine
We created the computing machine from a Remington Quiet Riter Typewriter, a Zenith television and the insides of a vintage Westinghouse radio. You can see the outside of the radio in the video, sitting on the dresser in Alice's bedroom.
Excited
Alice is excited to log onto the electric friendship generator, also known as Facebook.
We purchased most of Alice and Timmy's clothes at The Family Jewels in New York City. Her skirt comes from a thrift store in Hawaii.
First time
Alice trying out the prop for the first time.
The shoot took 10 hours, not including pre- and post-production.
The parts
The computing machine. We purchased parts from various sources: eBay (the typewriter), a vintage television rental house (the television), and an antique store (the radio parts).
Our Tomfoolery blogger, Tom Miller, played Timmy.
Wires
No decent computing machine works without duct-taped wires, of course.
Respect the rules
Oh, Alice. Look what you did. May you never abuse the electric friendship generator rules again!
Previous
Next
BEGIN