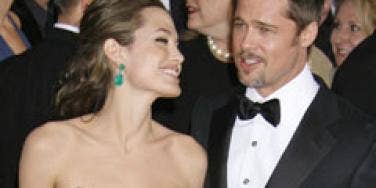 Romance was on display at the 2009 Academy Awards.
Who says romance is just for the silver screen? The red carpet at the 2009 Academy Awards was filled with romance. From A-list lovers Brad Pitt and Angelina Jolie to long-time loves Kevin Kline and Phobe Cates, YourTango rounded up some pics of our favorite red carpet relationships.
oscar1_spl82554_006.jpg
Who says Angelina Jolie doesn't smile? Count on Angie to light up when she looks at her love, Brad Pitt.
oscar2_spl82382_010.jpg
Tween sensations Zac Efron and Vanessa Hudgens arrived arm-in-arm for the 2009 Oscar telecast. The duo later joined Beyonce and Hugh Jackman for an extravagant musical number.
oscar3_spl82382_022.jpg
Recently reunited after a brief separation, Robin Wright Penn tearfully watched her husband of 13 years accept his award for Best Actor.
oscar4_spl82526_037.jpg
It's easy to see why Heidi Klum and Seal renew their wedding vows each year. The couple could barely keep their hands off of each other, even after 4 years of marriage and 2 children.
oscar5_spl82526_005.jpg
Matthew Broderick and Sarah Jessica Parker left their 6-year-old son at home for a night on the town. The fashion icon rocked the red carpet in Dior haute couture while her husband wore a midnight-blue tuxedo.
oscar6_spl82526_035.jpg
Robert Downey Jr. walked the red carpet with his wife of 4 years, Susan Levin Downey. Downey credits Susan for getting his life on track after years of drug abuse and addiction.
Previous
Next
BEGIN