Photo: weheartit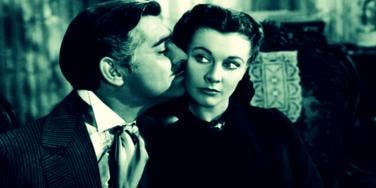 Damn.
There's nothing like a great movie kiss to prompt that goofy smile you hope no one catches you wearing. A kiss can make or break a relationship, because they're just that telling. Because we love kisses and films, we tracked down some of the greatest on-screen smooches from films, both new and old.
From the book Great Kisses... and Famous Lines Right Out of the Movies, we've selected six memorable lip-locks, along with the seductive banter that led into them. Luckily we're not the Academy, so we don't have to choose just one.
1. From Here to Eternity
Starring Burt Lancaster as Sgt. Milt Warden, and Deborah Kerr as Karen Holmes, the "sexy, infamously promiscuous" wife of his commanding officer.
Karen: "I never knew it could be like this. Nobody ever kissed me the way you do."
Warden: "Nobody?"
Karen: "No, nobody."
Warden: "Not even one? Out of all the men you've been kissed by?"
Karen: "Now that would take some figuring."
2. Rocky
Starring Sylvester Stallone as Rocky Balboa, and Talia Shire as Adrian Pennino, the shy pet-store clerk who sold the retired fighter two turtles.
Rocky: "Take off those glasses. You got nice eyes. Do me another favor? Take off that hat. I always knew you were pretty."
Adrian: "Don't tease me."
Rocky: "I'm not teasing you. I ain't teasing you. I wanna kiss you. You don't have to kiss me back, if you don't want ... but I wanna kiss you."
3. Two For the Road
Starring Albert Finney as Mark, and Audrey Hepburn as Joanna, two strong-headed hitchhikers who meet and argue their way around the South of France and their ensuing marriage.
Joanna: "I never want to see you again ... As long as I live."
Mark: "Joanna!"
Joanna: "No!"
Mark: "I've decided we should get married! What do you say?"
Joanna: (rushing back to him) "Yes!"
4. The Philadelphia Story
Starring Katharine Hepburn as stoic socialite Tracy Lord, and James Stewart as Macaulay "Mike" Connor, a struggling novelist and part-time journalist sent to cover her impending wedding.
Mike: "Why, you're the golden girl, Tracy, full of life and warmth and delight. What goes on, you've got tears in your eyes?"
Tracy: "Shut, shut up. Oh, Mike, keep talking, keep talking, talk, will you?"
Mike: (pulling away) "No, no, I've stopped."
Tracy: "Why? Has your 'mind' taken hold again, dear professor?"
Mike: "Good thing, don't you agree?"
Tracy: "No, professor."
5. Titanic
Starring Leonardo DiCaprio as "scrappy charmer" and steerage traveler Jack Dawson, and Kate Winslet as Rose DeWitt-Bukater, a blue-blooded, engaged beauty, who meet aboard the ill-fated ship.
Jack: "Step up onto the rail. Hold on. Keep your eyes closed. Do you trust me?"
Rose: "I trust you."
Jack: "All right, open your eyes."
Rose: "I'm flying! Jack!"
6. Gone With the Wind
Starring Clark Gable as Rhett "no gentleman" Butler and Vivien Leigh as Scarlett "no lady" O'Hara.
Rhett: "You've been married to a boy and an old man. Why not try a husband of the right age — with a way with women."
Scarlett: "You're a fool, Rhett Butler. When you know I shall always love another man."
Rhett: "Stop it. You hear me, Scarlett, stop it. No more of that talk."
Scarlett: "Rhett, don't. I shall faint."
Rhett: "I want you to faint. This is what you were meant for. None of the fools you've ever known have kissed you like this, have they? Your Charles or your Frank or your stupid Ashley."
Previous
Next
BEGIN