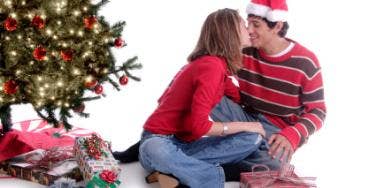 Make the holidays memorable by starting your own holiday traditions to carry on for years to come.
The year may be coming to end, but the time to get closer to your partner is just beginning. The holidays are an opportunity for couples to introduce the traditions that have been passed from one generation to the next—but also to create new traditions that enhance a relationship for years to come. Here we've collected ten holiday traditions (some a little spicier than others) that you and your boyfriend or husband can make your own. Happy holidays! – Maureen Dempsey and Elizabeth Narins
Christmas Crafts
Make at least one gift for one another. Times may be tight, and "getting creative" with gift-giving returns to its literal meaning this year. Whether you knit, sew, or partake in elbow macaroni art, get into the creative spirit and make something for your loved one. Even a photo collage or slideshow counts—as long as a little of your creativity is involved.
Gift And You Shall Receive
Play strip wrap. Wrap your gifts together and plan to spend a hot night at home! Layer up and lay out the stakes: He takes off one layer of clothing for every present you wrap, and you take off one layer for every gift he completes.
Naughty Strip Dreidel
Play strip dreidel. That's right, strip dreidel—faster and more fun than strip poker, and it can be played in a group or with just two. Take turns spinning the dreidel, and when it lands on the following sides, do the corresponding actions. Gimmel: Take off a piece of your partner's (or someone else's) clothing. Hey: Each of you take off a piece of each other's clothing. (Or go around in a circle, each person stripping the person to their right.) Nun: do nothing. Shin: Put on a piece of clothing (applies only if you've already taken something off).
Just The Two of Us
Make New Year's Eve your holiday. Oftentimes, couples are pulled in eight different directions around the holidays. Family commitments lead to no holiday left for just the two of you. Meanwhile, NYE sits unclaimed. Why not make it your Christmas? Bonus: Celebrate one week late, and sales and deals galore are yours for the taking.
Light Up The Town
Take a twilight tour. Bundle up and bring your guy on a romantic twilight tour of the brightest houses in town. Enjoy the radio's relentless Christmas music (for once!), a travel mug brimming with hot coco (or Irish coffee) and your un-inhibited critique of your neighbor's holiday décor.
Photo: Forest Park Bright Lights, Springfield, Massachusetts
Roasting On An Open Fir
Have a fir-side sleepover. Snuggle up and sleep together (no really, go to sleep) by the tree on Christmas Eve. The glow of the lights almost beats candlelight (and is certainly safer) and in the morning you can wake each other up and start tearing at the wrapping paper like little kids.
Ornament Exchange
Have an ornament exchange. There's nothing like unwrapping ornaments from years passed, only to rediscover the ones you haven't thought of since, well, last Christmas. Each one holds that year's memories and almost serves as a mini time capsule for where you were in the relationship. And think of how brilliant and full the tree will be by the time you hit your Silver Anniversary!
Hot Dog Ornament, surlatable.com
The Season of Giving
Remember those in need. Sit down and jointly choose an organization to assist or a local organization at which to volunteer every holiday season. It might be something as simple as donating blood together (Flashback to 90210, Brenda and Dylan—anyone? Anyone?). Sites such as globalgiving.com can help you narrow your selection down by location and interests or projects.
Gift card, globalgiving.com
Sexy Santa
Buy holiday-themed lingerie.Slip on something sexy while you open the presents, snuggle in bed or just sip your coffee and surf the net on Christmas morning. You're only going to wear it once a year, so you can go as crazy as you want with this outfit. Keep it on if you're going to a holiday brunch (or even to Church—shhh!) only you and your dude will know how close you and Santa are this year.
Merry Movie Moments
Usher in the holidays with a seasonal movie or soundtrack. Sure, It's a Wonderful Life is a heartwarming film, but feel free to find something that's more you—say, Elf or Love Actually—and watch it every year to officially welcome the holidays. Alternatively, make a playlist of holiday songs you both love to play while decorating the tree.
S'mores With A Twist
Make candy cane s'mores. They're just like regular smores, only you melt bits of candy cane in the roasted marshmallow for a sweet, minty flavor. No fireplace? Put the oven on broil and toast away.
My True Love Gave To Me
Wish them everything they want. You may not have the bank account (or physical space) to give your loved one their every wish and desire, but you can let them know what you would get them—if money were no object. Wish them a dozen gifts under the tree, or present one for each day of Hanukkah. See 12 Free Romantic Gifts for details.
Previous
Next
BEGIN